Antenna TV presents Classic TV Programming with Jenilee Harrison of Three's Company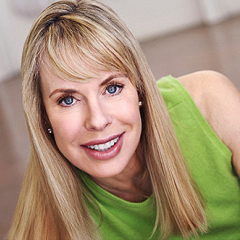 Jenilee Harrison
Born in Southern California, Jenilee grew up in an energetic household where the children were encouraged to be active. While in high school, Jenilee became extremely interested in maintaining a healthy lifestyle and staying fit after she was dumped by her boyfriend, who opted to go out with a cheerleader instead. Jenilee decided that she would show him, by losing 13 pounds and entering the Miss Granada Hills beauty pageant. She was first runner-up in that contest, and went on to win several more titles, including Miss San Fernando Valley and Miss Young America. Jenilee eventually became a cheerleader, too – for the Los Angeles Rams, while attending the University of Southern California. From there she parlayed her career into show business history.
Jenilee starred in the hit sitcom Three's Company, as Cindy Snow – Jack and Janet's new roommate after Chrissy (played by Suzanne Somers) moved out. She played Jamie Ewing Barnes – J.R.'s cousin – on the hit nighttime soap, Dallas. Among her numerous television appearances are Chips, Simon & Simon, Mickey Spillane's Mike Hammer, Murder She Wrote, and That '70s Show.
Although she is a television veteran, Jenilee is no stranger to the big screen, either. She played opposite James Garner in Tank, and Tony Curtis in Prime Target and starred in The Redemption.
Today, Jenilee helps others to lead healthy, fulfilling lives through her work in the direct merchandising market. A dynamic speaker, Jenilee was recently awarded with the title of Best Celebrity Infomercial Host. She has written and produced her own shows, and even developed her own cosmetics company. She is currently working on a series of reality shows, which she is starring in as well as producing.
For relaxation and her passion, an animal-loving Jenilee likes to spend time on her farm with her beloved animals which includes horses, a Miniature Donkey named Breanna, goats and chickens and her beloved breed, the Toy Fox Terrier. She has represented the American Toy Fox Terrier Club as its National Placement Coordinator for Rescue Placement working long hours to place numerous dogs throughout the country. Her endless devotion of animals has now lead Jenilee to being involved in further animal oriented business ventures/adventures, including her involvement with Equirace, a leading forerunner in the Thoroughbred Horse Race business of which she is an active and excited participant.
---
Richard Kline
Richard Kline grew up New York City, attended Queens College and has a Masters in Theatre from Northwestern University. He is known to millions of TV watchers as 'Larry' on the classic sitcom Three's Company. He recently toured the country as The Wizard of Oz in the National Company of WICKED. Previous to that he appeared on Broadway in David Mamet's November directed by Joe Mantello. At Buffalo's Studio Arena, he played Curt Logan in the World Premiere of Don't Talk To The Actors. In Los Angeles he played opposite Designing Women's Annie Potts in Diva at the Pasadena Playhouse. He has performed the solo show Boychik at New York's Theatre Four and at many venues across the US and Canada.
After serving as a lieutenant in Vietnam, Richard made his professional debut at the prestigious Lincoln Center Repertory Company in 1971. Regional theatre credits include Death of A Salesman, Chemin de Fer, Native Son Henry V (title role) and Love's Labor's Lost. An accomplished singer, Richard has appeared in the musicals They're Playing Our Song, Do I Hear A Waltz?, The Rothschilds, Hello Again, Titanic, and in his Broadway debut with City of Angels. In the American premiere of Andrew Lloyd Weber's By Jeeves, he played Jeeves both at the Godspeed Opera and The Kennedy Center. His many television credits include Gilmore Girls, Judging Amy, That 70's Show, NYPD Blue, Dream On, LA Law, Mary Tyler Moore, Maude.
As a director, Richard won the LA Drama Critics Circle Award for his direction of Noel Coward's Present Laughter. Other directing credits include Rumors (with Bernie Koppel), Rough Crossing, The Great Sebastians, Breaking Legs (with Pat Harrington), and the Theatre League tour of Leader of the Pack, with ShaNa Na. He has also directed Bruce Davison, Burt Reynolds and Billy Connolly in their television series.
Richard, his wife Beverley and their two cats, live in West Orange, NJ.His daughter Colby is an actress/singer living in Los Angeles.