Being With(out) David Bowie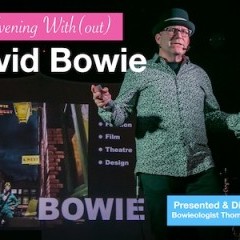 Being With(out) David Bowie
Directed & Presented by Thomas Mulready
With original & Bowie music by Vanity Crash
David Bowie not only transformed what it meant to be a pop music star, but his impact on nearly everything he touched is as broad and deep as any artist has ever achieved. Bowie's legacy continues to grow, as his work is discovered and appreciated by legions of fans and critics alike.
Thomas Mulready has developed an entertaining and powerful multi-media presentation on Bowie's life, music and influence. "An Evening With(out) David Bowie" is painstakingly researched and features rare clips and needle drops, including exclusive interviews with members of Bowie's early 1970's band, The Spiders From Mars. Rare videos, photos, music and biographical data are presented at a lightening-fast pace.
"This production delves deep into themes of Bowie's art, including gender and sexuality, fear and death, schizophrenia and insanity, and more," Mulready says. "We explore Bowie's impact on music, theatre, film, fashion, politics, design, production, visual art, marketing and even finance."
The show is performed in two parts. Part 1 is The Early Years, from young Davie Jones to the Thin White Duke. Part 2 is Mid-to Late Period: From Berlin and "Heroes" to his final album ★ Blackstar and beyond.
Thomas Mulready
As creator of Cool Networks LLC, Mulready leads an influencer-driven multimedia content network utilizing sites, podcasts, videos, and e-blasts to promote economic development, arts, culture and technology in Ohio. After creating the Performance Art Festival+Archives, he co-founded the Ingenuity Festival of Art and Technology, and has served as Senior Vice President of National City Bank and worked at Management Recruiters International, Richardson-Vicks, and Campbell Soup. He's played drums with various bands, presented his performance art in New York and Paris, and served as a Senior Research Consultant in the United Kingdom. His assiduously researched and painstakingly organized performance art and presentations have been presented in universities, jazz clubs and aquariums worldwide.
Vanity Crash
Vanity Crash was born on stage under hot lights in the crucible of sound and fury as the glam-punk band The Angry Inch in the rock musical Hedwig and the Angry Inch. Ever since, Vanity Crash has been dressing up and throwing down eye-popping synchronized light shows, outrageous stage costumes and provocative attitude, opening for the likes of the New York Dolls, Poison, Semi Precious Weapons, the Darkness and Gogol Bordello. Their recent celebrated tributes to pop culture heroes include timeless gems performed live alongside their own incendiary originals. Vanity Crash has recorded original tracks featuring David Bowie's longtime pianist, Mike Garson, who performed with David Bowie in his band The Spiders From Mars from 1972, and continued accompanying the artist until his passing.