Hotel California "A Salute to the Eagles"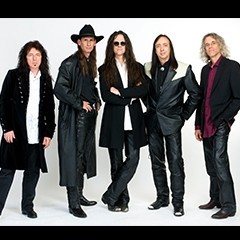 Dicky
Vocals, Mandolin, Pedal steel, Harmonicas, and Lead, Rhythm, Slide, Acoustic, Electric guitars
Groups such as Boston and Van Halen have had the pleasure of sharing the stage with this talented musician. Among his many credits are several major motion pictures. A true veteran in the industry, Dicky-Lee has toured extensively and recorded in some of the finest studios in the world. Always powerful and exciting, the element of fun never escapes this intuitive performer.
Wade
Vocals, Keyboards, Acoustic Guitars, Percussion
From early childhood Wade possessed a fascination for music and singing. He began performing by participating in school and church choirs. At the age of 23 his musical career took off as the lead vocalist for the original band Croox. Throughout the '80s and '90s, Wade performed up and down the Pacific Coast at all the major night clubs. He opened for such legends as Huey Lewis and the News and WAR. He also performed for many bay area radio stations including KOME and KSJO.
Scott
Vocals, Bass, Special Effects
Scott has shared stage time with such notables as War, The Commodores, Atlanta Rhythm Section, Wayne Cochran, and The Diamonds. His early career highlights include RCA Recording Artist "Gypsy", and producing the "Breakheart Pass Band". Scott studied music at Moorhead State University, is a software engineer and a degreed tax accountant. In the late 1990's he combined his knowledge of the music business, computer programming, and accounting, into a software product called 'The Band Leader' which since has gained worldwide success. He resides in Nevada and is the first called for many of the groups performing on the world famous Las Vegas strip.
Byron
Lead, Rhythm, Slide, Acoustic, Double Neck, and 12 string guitars, Vocals, Piano, Banjo
As a professional player Byron has worked with Grammy winning artists, and number one hit makers, including Michael MacDonald, Keith Emerson, Michael McKnight, Billy Davis Jr., Warner Brothers, Motown, and many others. As a composer, arranger, and producer he has covered all musical styles and genres, scoring and producing many hours of music for live shows and records as well as major film and television networks including ABC, NBC, Fox, and the Discovery Channel. He spearheaded the writing of a major-label rock opera by an international team with multiple platinum records and number one hits on IVK Records, and recently released his second album "Explosive" receiving critical acclaim by dignitaries in the genre.
Byron also gives back as a teacher of master classes in music and composition at conservatories, universities, colleges, and high schools all over the world.
Visit www.byronfrymusic.com.
John
Drummer, Vocalist, Multi-Instrumentalist
John does it all. His resume includes work with Vince Gill, Dobie Gray, Byron Berline, John Belushi, and The Hudson Brothers, to name a few.
He was also a principal player in the stage production of The Who's rock opera Tommy, and has worked with producer Michael Butler (Hair), and renowned choreographer and director Kenny Ortega, (Michael Jackson, Billy Squier, Madonna).
As a writer, John's most recent composition "She Drifted Away" can be heard on Harry Nilsson's Album Flash Harry, produced by Steve Cropper.