John Lodge of the Moody Blues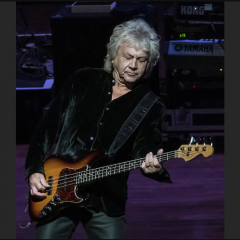 John Lodge is bass guitarist, vocalist, and songwriter for the iconic rock band, The Moody Blues. Songwriter of such mega Moody Blues hits "Ride My See-Saw", "I'm Just A Singer (In A Rock and Roll Band)", "Isn't Life Strange?" and many more. Lodge has been performing and recording with The Moody Blues for more than five decades, selling in excess of 70 million albums. Lodge has been voted one of the "10 most influential bass players on the planet," and has been the recipient of many awards, including ASCAP (American Society of Composers and Publishers), and Ivor Novello Award for Outstanding Contribution to Music, and inducted into the Hollywood Walk of Fame, to name just a few. The Moody Blues have released 15 studio albums and countless compilations, and John has also released three solo albums; NATURAL AVENUE in 1977, 10,000 LIGHT YEARS AGO in 2015, and his current LIVE FROM BIRMINGHAM, THE 10,000 LIGHT YEARS TOUR. He also released the duo album BLUE JAYS in 1975 with Justin Hayward, and they were voted the Top Duo for that year.
Born and raised in Birmingham, England, Lodge was fascinated by cars, and from an early age wanted to be a car designer; but he also had a great love for music, and bought his first guitar when he was 13 years old. At 16, he bought his beloved Fender Precision Sunburst Bass, on which he would later perform on all the Moody Blues hits including "Nights in White Satin", "I'm Just A Singer (In A Rock 'n' Roll Band)" and "Isn't Life Strange?" The young musician spent two years learning to play the instrument, and then, with friend Ray Thomas, formed the band, El Riot & the Rebels. Listening to the riffs of early rock 'n' roll recordings, Lodge's love of bass playing grew as he became interested in exploring "why" the bass guitar added such a huge dimension to the rhythm, energy and emotion of music, and his powerful and melodic bass, such a part of his songwriting, is the result.
After high school, Lodge served an apprenticeship, and attended Aston College of technology (later named Aston University), where he studied to receive a Higher National Certificate in Mechanical Engineering. In 1966 John received a phone call from Ray Thomas asking "have you finished college yet?" Lodge then joined, with his former bandmate Thomas, and Mike Pinder and Graeme Edge THE MOODY BLUES as bass guitarist/vocalist. It was at this time they met Guitarist/vocalist Justin Hayward, and the Moody Blues were "reborn".
BLUE JAYS was released in 1975, featuring John and Justin Hayward, and included Lodge's "Saved by the Music," a hard rocking piece with great hooks and a beautiful, catchy chorus, and was considered by many to be a highlight of the record. This track is featured on the new LIVE FROM BIRMINGHAM album. NATURAL AVENUE, John's first solo album, was released in 1977, and featured Chris Spedding on guitar and Mel Collins on sax and included the powerful ballads 'Say you Love Me' and anthemic 'Who Could Change'. Say you Love Me was included in the hit film 'Private Life' in 2018.
Lodge released 10,000 LIGHT YEARS AGO, his second solo album, in the spring of 2015. The recording again reunited Lodge with special guest contributions from former Moody Blues bandmates Ray Thomas and Mike Pinder on the song "Simply Magic." Legendary guitarist Chris Spedding again appears on the album, among others. The collection was recorded at various locations and completed at The Mix Factory studios in Florida. Lodge's song "In My Mind," was nominated "Rock Anthem of the Year" by Prog Magazine.
Whilst still touring with The Moody Blues, Lodge undertook his first ever solo tour in September 2016, visiting 12 cities in England, and the last night of the English tour was at the Birmingham Town Hall, John's hometown. This concert was filmed to capture this special evening. This was followed by a short tour in Florida in February 2017, and was invited as 'Special Guest' onto the 'Cruise to the Edge', a Prog Rock cruise from Tampa to Cozumel. 2017 saw a 9 date tour around the NE of the USA, finishing to a sold out performance at City Winery in NY.
In October 2017 Lodge released LIVE FROM BIRMINGHAM, THE 10,000 LIGHT YEARS TOUR on DVD/CD box set, digital download and Limited Edition Red Double 180g vinyl. The album features a selection of Moodies classics, such as "Ride My See-Saw","I'm Just A Singer (In A Rock and Roll Band)","Isn't Life Strange", "Gemini Dream", the BLUE JAYS track "Saved by the Music" and some of his solo work, including "Get me out of Here" and "In My Mind".
2017 saw the 50th Anniversary of the Moody Blues album DAYS OF FUTURE PASSED, and to celebrate, John and the Moody Blues embarked on a very special tour that included a complete performance of this iconic and groundbreaking album, the tour continued in January 2018 with the fourth Moody Blues Cruise, dates in the USA and finishing with a residence at the Wynn, Las Vegas. This celebratory concert 'Days of Future Passed, Live' was filmed in Toronto and is also currently being shown on PBS as part of their GREAT PERFORMANCES programme, and has now been released as a DVD, reaching the top of the US DVD charts.
In December 2017 it was announced that the Moody Blues were being inducted into the Rock and Roll Hall of Fame as part of the 'Class of 2018'. They first became eligible in 1990, and it took 28 years to receive the nomination. The news that they were being inducted was met with rapture by the generations of loyal fans who had been championing their inclusion for many years; prior to induction, every 7 out of 10 letters received by the Hall of Fame were about the Moody Blues, and their support drove them to a strong second place in the 'fan vote', garnering 1m votes. The Moodies performed live at the ceremony in Cleveland on April 14th, closing the show, and the event is currently showing on HBO and on Amazon Prime.
In October 2018, following a three-week residency with the Moody Blues at the Wynn Las Vegas, Lodge returned to the USA with his 10,000 Light Years Band. The shows received great critical acclaim, as one critic said 'The bassist may be playing smaller venues on this solo jaunt, but he and his band played with the same passion and physicality most rock stars reserve for sports arenas and stadiums.'
February 2019 saw Lodge and his 10,000 Light Years Band appear as 'Special Guest' on 'Cruise to the Edge', with further dates in Florida and the NE, and April 2019 saw John return to the UK for a short tour. On April 11th Lodge's career was celebrated with a special Charity concert at the Birmingham Symphony Hall, and he was inducted into the City's Walk of Fame alongside Carl Palmer; something he is incredibly proud of receiving in front of his family and friends in his hometown.
The Summer of 2019 will see John perform as part of 'The Royal Affair', together with Yes, Asia and Carl Palmer, travelling across the USA performing at over 30 cities.
John will always be a Moody Blue, and never wants to stop, but as he also says, 'Music is my life and I can't wait to get on the road with my band… the venues are smaller and more intimate, but I love live concerts "have bass will travel" that's the gypsy in me. I am a 'Moody Blue', I always will be, but I love getting the chance to perform songs that I have never performed before, and of course classic Moody Blue songs during these solo shows. The fans and I have travelled this road a long time and I hope they will continue with me, and also hope new fans will discover and explore along with us'
John has worked on many albums during his long and successful career, including producing the album Medusa by Trapeze featuring Glenn Hughes, an album that has become iconic in the world of rock, and wrote 'Stay away from Me' a track on the recently released Gene Vincent album, 'A Piece of the Time'. John also recorded 'Important Words' for this album. Through his career he has worked with Brian Wilson, Jerry Lee Lewis, Chuck Berry, Bo Diddley, to name just a few of the icons in John's life.
When not touring Lodge's other passions include Charity and Wine. Ten years ago he began his boutique wine label 'Krisemma Wine', hoping to share his favorite wines from around the world. To date he has produced four wines, a red from Napa Valley, California, and another from Bordeaux from France, and a two whites from the Elgin region of South Africa. The 2014 Elgin Chardonnay recently won a gold medal and two Trophies in the International Wine Challenge 2016, including Trophies for Best South African Chardonnay, and Best Elgin Region Chardonnay.
Charity is very important to John, in particular children's charities, and has been throughout his career. As a keen golfer, he has been Captain of the Variety Club Golf Society, and is a proud member of The Grand Order of Water Rats, two of the wonderful Charities that provide John an opportunity to give back. He also undertakes many fundraising activities at home in the UK, and in Barbados he is Trustee of the Sandy Lane Charitable Trust.