Orleans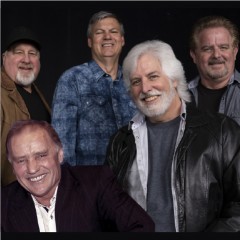 In 2022, platinum hit-makers ORLEANS are celebrating 50 YEARS of live performances! Praised by their peers for their songwriting skills, instrumental prowess and classic trademark harmonies, their iconic radio hits, including "Still The One," "Dance With Me" and "Love Takes Time," still resonate with audiences of all ages thanks to continued airplay on Classic Rock radio, television, film and streaming services.
ORLEANS have produced a body of work spanning 17 albums and several DVDs ... and they continue to be in demand for live shows, as they have been for nearly 5 decades.
Over time, Orleans have enjoyed great success, but have also experienced tragedy. The untimely death of Wells Kelly in 1984 and the sudden passing of mainstay Larry Hoppen in 2012, prompted the return of co-founder and former US Congressman John Hall (now retired from the road band). Co-Founder Lance Hoppen and longtime bandmates Lane Hoppen and Fly Amero are now joined by Nashville veterans Brady Spencer and Tom Lane on drums and guitar, respectively. Together they faithfully deliver the musical elements you have come to expect from this class act with power and integrity.
Since their humble beginnings in Woodstock NY and throughout countless worldwide tours, Orleans have set standards respected by other musicians. Here in 2022 and beyond, Orleans will continue to meet and exceed those standards at every show, to the delight of audiences everywhere.