Peter Beckett the Voice of Player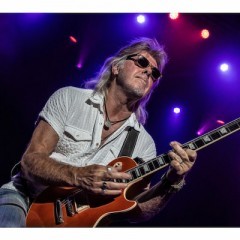 Peter Beckett was born in postwar Liverpool, England. Although under-age, he would occasionally sneak into The Cavern to listen to the local bands. He begged his dad for a guitar and finally got one from a second-hand shop, doing odd jobs to earn money for strings. He taught himself to play by ear. In 1962, he snuck into The Cavern during a lunch-time performance by The Beatles. That moment changed his life, and by the time he was 16 he was touring with his first band. A few years later, after some success with the London-based band Paladin, he was invited to come to the U.S. by a friend to join Skyband. They toured in the U.S. and Europe, releasing one album on RCA, but the band was short-lived. One night, Peter attended a Hollywood party and met a fellow songwriter from Texas, J.C. Crowley. The two hit it off and began writing songs together. One of them was Baby Come Back, a song inspired by recent break-ups each had coincidentally experienced. Ronn Moss and John Friesen joined the band, and they began showcasing for various record executives. They got an audience with producers Lambert & Potter, who saw potential and brought the band to Al Corey. PLAYER was signed to RSO Records in 1977.
In January of 1978 "Baby Come Back" became an international #1 hit. Their second single "This Time I'm In It for Love" reached #10. The self-titled album went platinum, and the band toured extensively. These classic outings included Boz Scagg's Silk Degrees Tour, Eric Clapton's Slowhand Tour, Heart's Dog & Butterfly Tour and Kenny Loggin's NightwatchTour, playing always to sold-out arena audiences. Four albums followed rendering more top fifty singles, including "Prisoner Of Your Love", "If Looks Could Kill" and "It's for You". Of the six albums Player released between 1977-2013, Peter Beckett is the only member to be involved in them all, producing some and composing 90% of all Player's songs. In 1991 Peter released a solo album "Beckett" on Curb Records.
After the other members of Player went their separate ways, Peter Beckett continued composing music for his own releases, and writing hit songs for many artists including: Heart, Olivia Newton-John, Kenny Rodgers, The Temptations, Poco, Janet Jackson, The Commodores, Cliff Richards, Survivor, Grace Slick, and more recently Vanessa Hudgens of "High School Musical" fame. He also garnered many movie credits as artist, producer and/or writer. These include: The Karate Kid, Two of a Kind, Bill & Ted's Excellent Adventure, Major League, St Elmo's Fire (Grammy Nomination), Frankie and Johnny, Rock Star, Terminator 3, Basic, Beyond Borders, Life Or Something Like It, Dirty Dancing 2 and Transformers, to name a few.
Between the years of 1989-1997, Peter became a featured member of The Little River Band, touring the world, and performing Baby Come Back at every show. He also co-wrote several songs for LRB.
Beginning in 2008 Player reformed several times, often featuring talented musicians from other bands including members of The Cars, REO SpeedWagon, Foreigner, Ambrosia and Little River Band.
In 2010 the term "Yacht Rock" began to grow in popularity, and the music it heralded (soft-rock tunes from the late 70's and early 80's) saw a rise in popularity that has not slowed down. Peter is a featured artist on many "Yacht Rock" shows, touring with other artists like Christopher Cross, Al Stewart, Stephen Bishop, the late Eddie Money, Ambrosia, Orleans, Firefall, Robbie Dupree, Elliot Lurie, Denny Laine, John Ford Coley, Matthew Wilder, Walter Egan, Gary Wright and tribute bands like Yacht Rock Revue.
As part of a settlement with a former member, the name Player has been retired. Peter continues to tour, both as a solo act and with his band, Peter Beckett's Player.
Baby Come Back has been featured in numerous TV shows and commercials over the years. Check out the great music, exciting videos, historic pictures and tour updates on Peter Beckett's Player Facebook page, the websites: www.player-theband.com or www.peterbeckett-player.com and Peter's latest venture: www.yachtrockwines.com