Poco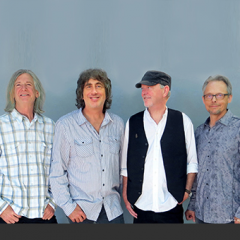 Their Hits:
"Crazy Love", "Rose Of Cimarron", "Heart Of The Night", "A Good Feelin' To Know", "Call It Love"
Rusty Young - lead vocalist, guitar, pedal steel
Jack Sundrud - bass, vocals
Michael Webb - vocals, stringed instruments, keys and accordion.
George Lawrence - drums and vocals
Poco was one of the first groups to pioneer Country­Rock music. The harmonies and instruments of Country mixed with Rock'n'Roll rhythms, paved the way for supergroups like the Eagles and while hits for Poco were few, their influence runs deep in both Country and Pop music. Richie Furay and Jim Messina formed Poco after Buffalo Springfield broke up in 1968 when Stephen Stills and Neil Young left the group.
Rusty Young had come from Colorado to play pedal steel guitar on the last Buffalo Springfield album. Furay loved what Rusty played on his song, Kind Woman and invited Young to join Poco. Auditions were held for the other band members and among the hopeful was Gram Parsons. He played with Poco for a few weeks but things didn't work out and he left the band. Eventually Rusty Young suggested bringing in two of his friends from Colorado to join the band. Drummer George Grantham and bass player Randy Meisner moved to California and signed on as Poco's rhythm section.
Poco originally called themselves Pogo but changed their name when cartoonist Walt Kelly, creator of the "Pogo" syndicated strip, instigated legal proceedings to prevent the use of the name. Poco began performing in Hollywood at clubs like The Troubadour and gained the attention of several record companies. They signed with Epic in the fall of 1968 and released their debut album Pickin' Up The Pieces, in 1969. Randy Meisner left the band after the first album to play with Rick Nelson & the Stone Canyon Band. A few years later, he became a founding member of the Eagles and wrote and sang lead on their hit, Take It To The Limit.
Jim Messina moved to bass to cover the spot Meisner left until Timothy B. Schmit joined the band. Following their second album Poco, in 1970, the band recorded a live album called, Deliverin' (released in 1971).
The singles, You Better Think Twice (1970), and C'mon (1971) made a brief appearance on the Pop singles chart. In the fall of 1970, Jim Messina decided to leave Poco to spend more time with his new wife and work as a staff producer for Columbia Records. He was assigned to work with a new artist named Kenny Loggins and the two worked together so well in the studio that they decided to form a band together. Loggins and Messina went on to record nine albums and several hit singles including Your Mama Don't Dance. Singer, songwriter, guitarist.
Paul Cotton joined Poco in 1970 after leading the popular Chicago­based band, Illinois Speed Press. Cotton contributed Bad Weather and Railroad Days on the album From the Inside, produced by Steve Cropper and recorded in Memphis. Furay began to share more of the songwriting and lead vocals and Tim Schmit also sang two songs on the album. Poco recorded their next album, Good Feelin' To Know, in Chicago and returned to Los Angeles for the making of their Crazy Eyes album. Furay left Poco in 1973 to form the attempted supergroup, the Souther­Hillman­Furay Band. Richie recorded two albums with J.D. Souther and Chris Hillman, but commercial success eluded the group. From 1973 to 1977,Poco toured and recorded as a four­piece with Cotton and Schmit sharing songwriting and lead vocals.
Rusty Young began to contribute as a writer and vocalist on Poco's first album for ABC, Seven (1974), with Rocky Mountain Breakdown. Over the next four years Poco released the albums, Cantamos (1974), The Very Best Of (1975), Live (1975), Head Over Heels (1975) (that produced the Top 50 Pop hit, Keep On Trying), Rose Of Cimarron (1976) and Indian Summer (1977). The title tracks of both the last two albums were Pop chart singles with Rose Of Cimarron going Top 100 (1976) and Indian Summer going Top 50 (1977).
More personnel changes came in 1977 when George Grantham moved to Nashville to play drums for Ricky Skaggs and then Steve Wariner. Timothy Schmit also made his exit from Poco to replace Meisner in the Eagles. He recorded The Long Run and Live albums with the supergroup and wrote and sang the hit, I Can't Tell You Why.
Rusty and Paul again held auditions in Los Angeles to find a new rhythm section. They hired Englishmen Steve Chapman (drums) and Charlie Harrison (bass, vocals) who had been members of Al Stewart's band. This sixth re­formation of Poco proved to be the magical one. They released the Legend album for ABC in 1978. Crazy Love, written and sung by Young, became Poco's biggest hit reaching the Top 20 on the Pop singles chart and crossing to the Country Top 100, the following year. Paul Cotton's Heart Of The Night also became a Top 20 Pop hit and helped propel sales past the 500,000 unit mark.
Poco earned their first Gold disc and the Legend album eventually passed the one million sales mark to be certified Platinum. The title track of Poco's 1980 album Under The Gun,reached the 40's on the Pop chart and Midnight Rain went Top 75. The band recorded the Civil War themed album Blue And Grey (1981) and Cowboys And Englishmen (1982) for MCA before moving to Atlantic Records in 1982. The Ghost Town album provided the Top 50 hit, Shoot for the Moon.
Their second Atlantic album was titled Inamorata and featured a reunion of sorts when Furay, Grantham, Meisner, and Schmit joined Poco in the studio to sing on a few tracks. In 1984, Poco decided to take a break from recording and touring. Chapman took over management of his former employer Al Stewart. Bassist Harrison stayed in L.A.and formed a new group. Cotton and Young relocated to Nashville to focus on songwriting and session work.
Later in the 80's, Rusty and Paul occasionally performed as Poco with various Nashville studio musicians providing the rhythm section. Young played steel guitar on albums for many Country artists and toured for a while with Vince Gill. In 1989, Young and Furay thought it would be fun to get the original Poco back together to record an album. Grantham, Meisner, and Messina agreed and they began writing and rehearsing at Messina's Santa Barbara, California studio. Poco signed a new record deal with RCA and released Legacy in 1990.
The reunion album produced the pre­released 1989 Top 20 Pop hit and video, Call It Love and Poco embarked on a worldwide tour to support the album. They had a 1990 Top 40 Pop hit with Nothin' To Hide, which was co­written and produced by Richard Marx.
Throughout the 90's and first decade of 2000 Poco, led by Rusty Young, Paul Cotton and Jack Sundrud with the addition of drummer George Lawrence continued to be a recording and touring force logging in 100 shows a year. In addition to releasing a new studio CD: "Running Horse" in 2003, a live DVD: "Keeping The Legend Alive" in 2005, "Bareback At Big Sky" in 2006 and an unplugged CD: "The Wildwood Sessions" in 2007.
The band has always maintained their musical superiority and the new incarnation will continue to be musically superior with a foot in the past, present and future. As Rusty Young says, "Hang on, this could be quite a ride".