Robert Hart ex vocalist of Bad Company featuring Dave Bucket Colwell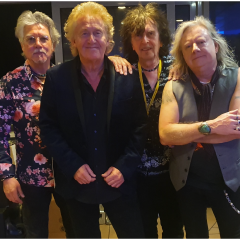 Robert Hart has put together a very special event for the '70s Rock and Romance Cruise. He was the lead singer of Bad Company for 7 years and recorded 2 very good albums -- Company of Strangers in 1995 and Stories told and Untold in 1996. In these albums, he added some re-recordings of classic Bad Company songs. Robert has been always in demand, and is known as one of the best British singers. He has also played many years with Manfred Mann's Earthband, and The Jones Gang with Kenny Jones of the Faces.
He has assembled a great lineup: on guitar is Dave Bucket Colwell, who spent 14 years in Bad Co, and also had a spell in Humble Pie and many other bands, Pat Davey on Bass (Paul Young) and John Lingwood on Drums (Manfred Mann). Fans can expect all the classic songs from all periods of Bad Company. You will hear Ready For Love, Can't get Enough, Rock and Roll Fantasy, the list goes on and on. It promises to be a great special event on the Cruise!