The Gilmour Project Plays Pink Floyd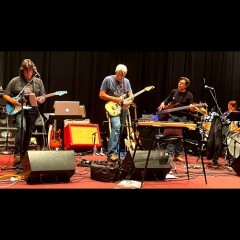 (San Francisco, CA / Feb. 22, 2022)The Gilmour Project made their long-awaited debut at Denver's Paramount Theater January 29 – to immense critical press and fan acclaim, buoyed by excellent ticket sales. They continued-on, to play shows at The Regency Ballroom, San Francisco, Celebrity Theater Phoenix, Coach House Capistrano, Theater at The Ace Hotel, Los Angeles, finally hitting a Covid bump in Mexico City – now postponed to June 11.
The band spontaneously Facebook LIVE streamed every magical show of 2 sets:
'Dark Side of The Moon' (Pink Floyd's 1972 pre album concert version)
A deep dive into a rotating assortment of audacious psychedelic era Floyd, solo Gilmour, Dead-esque and James Brown funk jams … threatening to add a Kate Bush song, because this is 'The Gilmour Project' (Kate was 'discovered' by David Gilmour after all).
The Gilmour Project incorporates acclaimed musicians whose background is both prog(ressive) and improvisational.
Jeff Pevar (lead guitar with CSN, David Crosby/CPR, Joe Cocker, Ray Charles, Bette Midler, Blue Floyd, Phil Lesh & Friends,
Ricki Lee Jones, Marc Cohn),
Kasim Sulton (bass & vocals with Todd Rundgren's Utopia, Meatloaf, Blue Oyster Cult, Hall & Oates, Cheap Trick & Joaan Jett),
Prairie Prince (co-founder of The Tubes, original drummer with Journey, drums with Todd Rundgren, Blue Floyd, Jefferson Starship, Phil Lesh & Friends, XTC, George Harrison, Chris Isaak, Dick Dale),
Mark Karan (guitar & vocals with Bob Weir, RatDog, The Other Ones, The Airplane Family, Live Dead '69, Tom Constanten
Scott Guberman keyboard & vocals with Phil Lesh & Friends, Live Dead '69, Keystone Revisited, Englishtown Project
The improvisational 'jam gestalt' of the legendary Blue Floyd, which both Pevar & Prince performed with, matched with Pink Floyd deep tracks, hits and fan favorites, including solo Gilmour gems, and accompanied by 'Floydian' audio FX from Paul Simon producer 'The Duke of New York' (Graceland: The Remixes) is the collaboration which is The Gilmour Project.