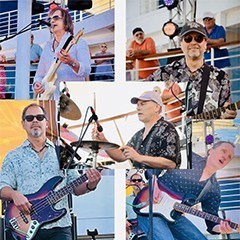 The LSB Experience is a band from the Netherlands, well known for their great harmonies. After the pandemic break, they are ready to rock. This year they played at the Star Vista Live Rock and Romance Cruise which was fantastic!! And now they are back at the Flower Power Cruise.
They recorded 4 albums, "The Story of the troubadour" with songs from artists who started their career in the famous Troubadour in Los Angeles. "Flashbacks" a semi-acoustic tribute to the west coast singer-songwriters. "The Experience" an album with originals recorded in Cincinnati. "Beatles and Beyond" with songs from the Beatles and bands influenced by the Beatles. At this moment LSB is doing a theater tour in the Netherlands with "Beatles & Beyond". And before that they toured with the show: The Story of the Troubadour". The LSB Experience started touring in the US almost 10 years ago at the famous festival "Abbey Road on the River".
The shows on the Flower Power will be very versatile, from the more acoustic Crosby, Stills, Nash & Young, the Eagles and the Beatles to the more electric early seventies classic rock with bands like the Allman Brothers, Dooby Brothers and Peter Frampton. The LSB Experience is looking forward to see you all for a week of fun, music, dancing and connecting,.
The vibe of the Flowerpower era!
The LSB Experience:
Hans Sligter : guitar and vocals
Sjoerd van den Broek : guitar and vocals
Jan Niewold : guitar and vocals
Rob Hendriks : bas and vocals
Peter Deiman : drums and vocals