Oceanview Stateroom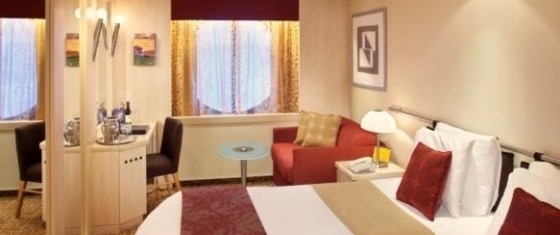 Oceanview Stateroom
Category: 4, 5, 6, 7, 8
Staterooms with large windows and a sitting area where you can kick back and relax after a day that has been as busy or relaxing as you want it. Stateroom size: 170 sq. ft.
All standard stateroom amenities include:
Our signature, friendly, personalized service
Custom blended bath products
Interactive Samsung flat-screen televisions
Twice daily service (makeup and turndown)
Celebrity eXhale bedding
Private safe
24-hour room service
private mini-bar
Stateroom images and features are samples only. Actual furniture, fixtures, colors and configurations may vary. All measurements are approximate; drawing not to scale. Lastly, the configuration of accessible staterooms may vary from the non-accessible stateroom shown here.