Barry Goudreau's Engine Room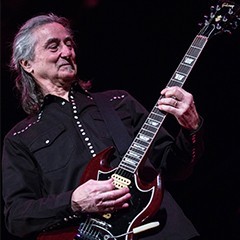 As a former member of the multi-platinum selling band BOSTON, guitarist Barry Goudreau played on their first two albums, "Boston", and "Don't Look Back", and toured with the band from their debut show through the conclusion of the "Don't Look Back" arena and stadium tour. Upon its release, "Boston" was the fastest-selling debut album of all time, eventually reaching 20 million in sales, with "Don't Look Back" selling over 7 million copies. Both albums landed in the top five of the Billboard Album Charts, with "Boston" reaching #3 and Don't Look Back, reaching #1.

Barry's musical career continued after BOSTON, going on to form Orion the Hunter, RTZ, and releasing two records with Brad Delp. Barry Goudreau's Engine Room celebrates the era with a show filled with gems mined from the classic rock catalog.