A Letter from the Executive Producer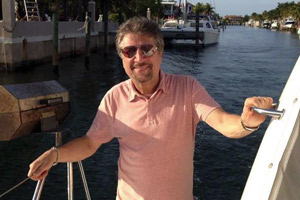 With just a few weeks remaining of summer 2021, our StarVista LIVE team is getting ready for fall, a time when we ramp up detailed planning and programming to ensure the 2022 '70s Rock & Romance Cruise is even better than the last – and our 2020 sailing will be quite the act to follow! In the past few months, we've added some more incredible acts to the artist roster including Little River Band and Jason Scheff, fan favorites who have performed on past cruises and brought incredible energy, performances and time spent with their greatest fans. Jason recently sat down for a radio interview with 100.7 The Bay to discuss what he loves most about the cruise – and that's YOU, the fans! Give it a listen here
We're also incredibly honored to have recently added two acts who have never performed onboard for us - Barry Goudreau's Engine Room starring Barry Goudreau, formerly of Boston, and Al Stewart with his band The Empty Pockets. As a former member of the multi-platinum selling band Boston, guitarist Barry Goudreau played on their first two albums, "Boston", and "Don't Look Back", and toured with the band from their debut show through the conclusion of the "Don't Look Back" arena and stadium tour. Barry Goudreau's Engine Room will celebrate our favorite era with a show filled with gems mined from the classic rock catalog.
Singer-songwriter and troubadour Al Stewart has been a prominent figure in British music since he released his debut album in 1967. Since then, Stewart has released an additional eighteen albums, three of which are live, and two, Year of the Cat and Time Passages, went Platinum in the U.S and both reached the Top 10 on the Billboard Hot 100. Our music host Joe Johnson recently sat down with Al Stewart for an All-Access Pass from Home to discuss his musical influences and what he looks forward to most on the cruise – check it out here!
With these additions on top of our already incredible lineup, our 5th anniversary celebration is sure to be our most rockin' cruise yet. Later this fall, we'll share more details regarding theme nights, onboard events and more, so stay-tuned for those details to come.
I hope you have a fantastic rest of your summer and I look forward to partying with you all again in 2022!
Alan Rubens
Executive Producer