Love Songs That ROCK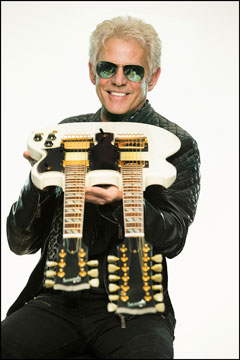 There's nothing like the breezy love songs of the '70s, but many of the artists on next year's cruise really know how to take romance to new musical heights and make it ROCK.
Cheap Trick mastered the art of rocking romance when "I Want You To Want Me" became a global smash in 1977. But did you know that it took three tries for their iconic song to finally strike a chord with fans? After performing it for years during their concerts, the band recorded the track but decided not to include it on their debut album. It made its way to their second album, "In Color," but largely went unnoticed. It wasn't until "Live At Budokan" that fans fell for the sped-up, rollicking version.
"Sister Golden Hair" was destined for a similar path, originally planned for America's "Holiday" album, but not making the cut. It was added to the band's next album, "Hearts," and hit #1 in 1975.
When Don Felder co-wrote the haunting "Hotel California," he and the Eagles fashioned it into a cautionary tale about how success can take you on a journey to excess and materialism. Despite being over six minutes long, the song climbed to #1 and went on to win a GRAMMY Award for Record of the Year in 1978.
"You Ain't Seen Nothing Yet" is arguably one of the hardest rocking love songs ever recorded. Randy Bachman came up with its signature "n-n-nothing yet" line to needle his brother, Garry, who was prone to stuttering. Another epic song that almost never saw the light of day, it was only added to Bachman Turner Overdrive's "Not Fragile" album in 1974 after their record company's A&R rep heard it and fell head over heels.

Todd Rundgren often talks of "I Saw The Light" as a simple love song, but it swayed its way into the hearts of fans and has remained there ever since it was a Top 20 hit in 1972.
Adding a wistful twist to the classic love song, "Your Wildest Dreams" rocked about a love affair from long ago and earned John Lodge and the Moody Blues a Billboard Video of the Year award in 1986.
With its epic keyboard solo opening, Jefferson Starship ventured into the darker side of love with "No Way Out," a tale of infidelity and insecurity. Saturday Night Live character Father Guido Sarducci (actor Don Novello) made an appearance in the comical and quirky video.
Can't wait to see these iconic musicians belt out their hits about love or otherwise, for us in February next year.