Meet Ross Halleck of Halleck Vineyard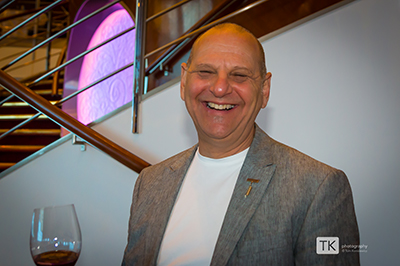 The '70s Rock & Romance Cruise has partnered with Halleck Vineyard, a boutique winery near Sebastopol in the heart of Sonoma wine country. Ross Halleck joined us as a guest on the 2017 Rock & Romance Cruise and he'll return in '18 with his award-winning wines. He'll talk about the art and science of winemaking as well as his personal journey from Silicon Valley to Sonoma. But expect more than the nuts-and-bolts of clones, site locations, and terroir. Ross has a robust commitment to quality on all levels of life and work, and a spiritual belief in his mission. At a time when customer service is routinely automated or outsourced, he forges a personal bond with his customers. He's committed to building community through wine just as the '70s Rock & Romance Cruise builds community through music. Halleck Wine isn't sold in stores; it's available only to club members, and, on the 2018 Rock & Romance Cruise, you'll share the Halleck Wine Club experience.
What was your experience of the 2017 sailing of the '70s Rock & Romance Cruise?
Delightful! I ate too much, drank too much, and didn't get enough sleep or exercise. In other words, a perfect vacation. My experience of rock concerts was that they were … well, rough. Big crowds, food vendors not too thoughtful about their wares, poor beverage selection served in plastic or paper cups, and so on. The cruise was completely different. You can hang out and enjoy the music and meet fun people. I found a broad generosity of spirit, and of course there wasn't a bad seat in the house. I took a chance and brought three of my wine club members as a litmus test and we all came away in love with the experience.
Tell us about the personal journey that led you to start your own winery.
Wine was always my drug of choice. It didn't have the downside of the other options. It was accessible and legal. I always had an insatiable curiosity about life. With wine, there's so much to explore. It has been around for eight thousand years. Not even the most experienced sommelier can say he or she knows a lot about it. Wine keeps on revealing itself.
Domestic wine sales have increased annually for more than twenty or more years. How are our tastes changing, do you think?
There's a growing sophistication among wine consumers. American preferences are now split equally between wine and beer, where once we were a beer-drinking culture. Meanwhile, the wine has gotten better, and American wine has not only become considerably more finely crafted but the selection has improved dramatically. Our palette for both food and wine has matured. We're a young country getting older by following in the steps of our brothers in the old world. We're establishing a wine culture and literacy on a par with anywhere else.
Coffee has brand loyalty to, say, Starbucks or Peets, but wine lovers tend to want to try new wines. How, as a producer, do you face that challenge?
People are excited about trying new wine and the growing choice is an opportunity. Wine-tasting has become a recreation and Sonoma has become a destination in large part because of the plethora of choice. Wine is never the same experience. It's not like going to a theme park or hotel chain.
Have you applied any principles from your Silicon Valley career to your winemaking career?
I was an early proponent of one-to-one marketing. That's what our logo represents—one-to-one in Roman numerals. In between is the grape, making "H." Around them is the circle, meaning community. I was an early adopter of the internet as a means of brand-building. We specialize in creating offers tailored to our customers. It's all centered upon them. There's no one on our staff not named Halleck. We greet you in our home. It's not a manufactured winery. You'll taste our wines in our dining room or in our living room. If you come visit us, you'll get a window onto our personal vision.
You developed a unique business model, offering products and experiences that you believe will appeal to your clientele. Do you approach this from the standpoint of your personal taste? In other words, if it appeals to you, it'll appeal to others?
Let's face it, wine is juice in a bottle, and there are plenty of bottles on the shelves. The question becomes how we elevate and differentiate. All our information comes from within. I love wine, I love to travel, and I had a design and branding company, so I combined all of those personal experiences into a business. I have a business plan, but it comes from an authentic place: my preferred lifestyle.
In April, you've organized a Wine Club event on Broadway when you'll go to see Josh Groban in Nastasha, Pierre and the Great Comet of 1812. The show is a hot ticket. How did you arrange this?
Josh Groban knows our wines and has mentioned us to his fans. He's helping us curate a signature wine for him, and he's involved at the level of trial and curation of flavor. He invited our Wine Club to sit in the producers' seats on-stage. Before the show, the club will attend an exclusive vintners' dinner at Del Frisco's. That's the kind of event we try to offer to our members: one that money can't buy.
In advance of next year's Rock & Romance Cruise, how can our guests familiarize themselves with your wines and experiences?
Visit and explore, our website, www.halleckvineyard.com. Join our mailing list and share your thoughts with us. I'd love you to join our community. Feel the personal connection we extend with our trips and events. Wine is a personal journey. No one can tell you what you like. Honor your personal taste. Enjoy the adventure.