Rodney Justo Of Atlanta Rhythm Section Talks About Cruises, Roy Orbison, Classic '70s Rock and more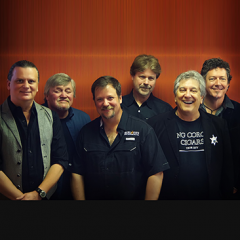 Roy Orbison, Roy Buchanan, and B.J. Thomas were among the headliners who hired Rodney Justo as back-up singer or band-leader. Then he led several of his own bands. But these days he's back singing lead in the Atlanta Rhythm Section, and it feels like home. Rodney was part of ARS at the very beginning, rejoined briefly in the 1980s, and re-rejoined in the 2000s. The years when he was out of music might have been a good thing. His vocal chops are still very much intact, and he hasn't become jaded by decades on the road. He has the vigor of a guy half his age, and, as he tells us here, he's truly looking forward to meeting everyone on the '70s ROCK & ROMANCE CRUISE. Expect to hear all ARS's classic hits, "So In to You," "Imaginary Lover," "I'm Not Gonna Let It Bother Me Tonight," "Do It or Die," "Spooky," and many more.
---
Your first big break came as a member of Roy Orbison's backing group, the Candymen. What did you learn from being around Roy?
I already knew how to sing when I worked with Roy, so it's not like he taught me that, but there were many things about Roy that affected all of us who worked with him. I remember he wouldn't listen to other popular music because he didn't want to imitate what anyone else was doing. But most impressive to me was how he treated people. Back then, deejays could play what they wanted and, after those big hits, Roy was making some not-very-good records. Because he'd always been so nice and so good to people when he was on top, deejays would give his records a chance. People really liked Roy. He was very gracious. I took a cue from him on that. I try to make people feel they're important because they are. I don't think any of us in ARS had been to college, but Roy gave us an education.
ARS founder Buddy Buie had managed Roy. Around 1970, he launched Studio One in Doraville, near Atlanta. Did he want some of the session work that was going to Memphis, Muscle Shoals and Nashville?
That was absolutely his plan. There was so much work coming to Memphis, Nashville, and the Shoals, he wanted to grab some of it. And those studios had their own staff musicians, so Buddy wanted his own Atlanta Rhythm Section. He also had the idea that we'd make our music under his guidance, but we'd be the session guys while we were formulating our sound. Buddy was our Svengali. No Buddy Buie—no ARS. That simple.
Do you remember who came in there to record?
A lot of Atlanta acts, like Classics IV, Billy Joe Royal, and Joe South. Big names from out-of-town, too, like B.J. Thomas. B.J. was coming off "Raindrops Keep Falling on My Head." We were so self-centered back then. "Bring up the volume on the background vocals," y'know! Later, B.J. hired me as his band-leader.
Skynyrd recorded their first big albums at Studio One, making it a landmark. So many classic studios have been torn down. What happened to Studio One?
Buddy sold the studio to Georgia State University. They tried to keep it open, but really had no use for it. I still remember the address. 3864 Oakcliff Industrial Park. That's where it was … in an industrial park. I went there when someone was making a documentary. All the times I'd been there, incredibly I got lost finding the place. The building is now part of a convention services company warehouse. The stairs up to the second floor are gone but you can see where they were. [ARS co-founder] Dean Daughtry would have been homeless if it hadn't been for that office. I was the first one out of ARS, but now Dean and I are the only original members left.
ARS made a couple of albums for Decca that didn't do well. You left after the first album. Did you feel that Buddy and the others were insufficiently committed to the band?
Y'know, Buddy Buie had to make the right decisions for the Buddy Buie family, and I had to make the right decisions for the Rodney Justo family. Buddy was committed to the band, but he was committed to making a living, too. I was impatient. I was singing back-up on sessions, and I figured if I was going to sing back-up I'd go to New York and make some real money at it. But Buddy and I remained great friends. When he died in 2015, it was a big, BIG shock. I still feel that I'm carrying on his legacy, and I still feel that we're performing to please Buddy Buie, just like we always did.
Do you think Buddy and ARS emphasized melody because you'd all started playing with guys like Roy Orbison who were very focused on melody and structure?
I don't think it was a conscious move. Buddy saw ARS as a vehicle for his songs. We sang and played like Buddy wanted. In the 1940s and '50s, songwriters wrote and singers sang. Songwriters would pitch songs to artists. I loved to hear Buddy pitch his songs to us. He couldn't sing but I loved to hear him sing. He sang with authenticity. He pitched "Spooky" to Dennis Yost of Classics IV, and I remember Dennis saying sarcastically, "Looks like 'Spooky' is gonna be our next single. Ought to be 'Cissy.'" Dennis didn't like how Buddy made him sing it, but guess who was right.
You worked outside music for a time. Did you keep in touch? Did you miss it?
I was always friends with the ARS guys. When they started scoring hits, I thought, "Great!" Anytime they toured near Tampa, where I was living, I'd go see them. They'd ask what I was doing, asked if I sang any more. I said I was out of that completely. I didn't miss it until one night my wife and I were on our way to Australia to see our daughter. We were laying over in Los Angeles, and a hotel band was playing the Beatles' "Tell Me Why." It sounded so fresh and so great. I told my wife I was going to put another band together.
You came back to ARS briefly in the early 1980s, then again in 2008. How did that come about?
Andy Anderson had a heart attack in 2008. Dean Daughtry called me. They were playing the Mohegan Sun resort. He said they needed to fulfill those dates. I hadn't sung for twenty-eight years. I had to work hard learning all their songs. I didn't want to make a fool of the band and myself. For one of the songs, I left the lyrics on the floor so I could look at them, and then I couldn't see the words! Funny thing was, after one verse it was like second nature.
You've worked a couple of cruises. Do you and the guys enjoy it?
Hell, yeah we like it. If we hear of a cruise that we'd be suited for and we're not on it, we're mad. The thing is, on cruises we get to be a band… and we get to enjoy the other acts. That's a treat for us. Plus, you walk around the decks, meet people, take photos, share stories. It's a lot of fun. If there's a separate area for performer dining, you'll never find us there. And the venues are small enough to where it feels intimate. So, yes, we love it! It's a treat for us, and we'll make it a treat for you!
Colin Escott © 2017