Dining & Restaurants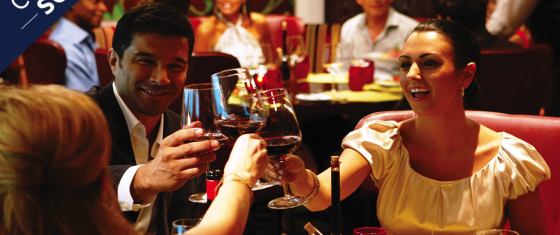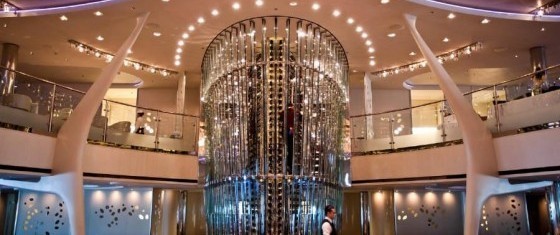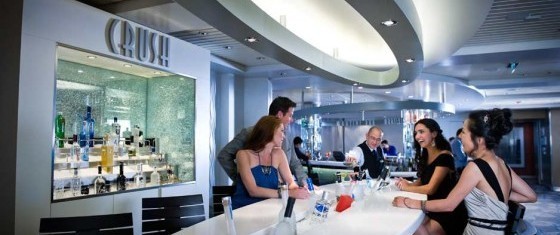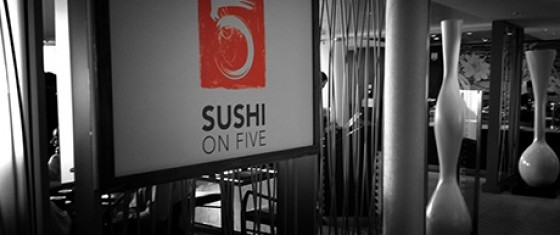 Dining on the Celebrity Summit is an experience beyond the obvious, a globally influenced blend of classic and contemporary menus. It's always a perfect marriage of flavors and the artful presentation of cuisine. There are many different kinds of dining experiences, including main dining in the Cosmopolitan Restaurant. Casual Dining can be enjoyed in our Oceanview Café or Sushi on Five. And then there's Specialty Dining, where each restaurant offers a unique culinary journey.
---
Included in Cruise Fare
Cosmopolitan Restaurant The airy and contemporary main restaurant, offers up to 29 exquisite selections, with most changing every night to give you a rich variety of classic and contemporary choices. Open for breakfast and dinner nightly and lunch on sea days.
---
Premium Dining Options - Additional charges apply
Café al Bacio & Gelateria If only your local coffee shop had ocean views like these. Savor a cup of freshly brewed coffee or a delightful liqueur in this lively European-style coffee house. Or treat yourself to the Gelateria, where sumptuous Italian ices and gelatos are prepared afternoon and evening. Located Deck 5. A la carte menu pricing.
Qsine Qsine® offers a culinary journey that delivers elements of surprise and delight. A James Beard featured Master Chef created Qsine to give you something you've never experienced before—on land or at sea. Leave any preconceived notions behind. Dig in and try new things. It's time your palate got a wakeup call. Our iPad® menus make your dining experience even more fun and interactive. Located Deck 11. Reservations recommended*. $45 USD per person.
Sushi on Five Sushi on Five satisfies your craving for extremely fresh, locally sourced, lovingly handled, and authentically prepared fish and veggies. Its menu has been crafted by expert sushi chef Yoshikazu "Yoshi" Okada, originally from Japan, now a restaurateur in Hollywood. Located Deck 5. Reservations recommended.* A la carte menu pricing.
Tuscan Grille Take the traditional style and artisanal flair of Italy, add contemporary influences, and serve the cuisine in abundance. It's all part of the expansive character of Tuscan Grille. Located Deck 3. Reservations recommended.* $45 USD per person.
*Reservations can be made through Celebrity Cruises once you have checked in online or from your stateroom once onboard.
---
Other Dining Options Included In Cruise Fare
Mast Grill The perfect place to grab a quick bite, like burgers and other specialties grilled to order, while groovin' out at the pool. Located on deck 11.
Oceanview Café Don't let anyone tell you different: soaking up the sun's rays and attending all these concerts really works up an appetite. Luckily, Oceanview Café is located just a short walk from the pool on deck 10. Enjoy a delicious meal in a casual setting, before you head back to the music.
Spa Café With a menu that features delicious, light, health-conscious fare, the Spa Café located on deck 10 in the Solarium is a great way to reward treat yourself any time of day or night.
*24-hour In-Room Dining Celebrity offers 24-hour in-stateroom dining. For Suite guests, it's complimentary* 24 hours a day.
*The service is complimentary, except when ordered between 11:00pm-6:00am. There is a $4.95 fee per room service order during these late night hours.
---
Bar Service Offerings
Beverage Packages: Celebrity Cruises has several alcoholic and non-alcoholic Beverage Packages ranging in price. For more information on these packages, including the price and package offerings, visit the Celebrity Cruises website.
Cellar Masters: Inspired by the vineyards of the world, Cellar Masters brings to life the experience of a global wine tour, while you learn about and taste a large variety of wines from around the world. A welcoming and unique onboard environment, you'll discover new wines, receive recommendations and enrich your knowledge of the world of wine. Located on deck 5.
Martini Bar & Crush: On the totally cool, ice-topped bar, Celebrity's talented bartenders put on a high-energy show preparing an intriguing menu of classic and contemporary martinis. Sit back in the contemporary plush high-back chairs and enjoy a collection of classic and rare vodkas and a portfolio of fine caviars. Located on deck 4.
Mast Bar: Energetic, lively and casual; a large poolside spot for light and refreshing cocktails, frozen specialties and non-alcoholic offerings, from sunup to sundown. Located on deck 11.
Sunset Bar: For a break from all the action, watch the sun set on the water as we cruise to future destinations at this low-key bar. Located on deck 10.