Concierge Class Stateroom w/ Veranda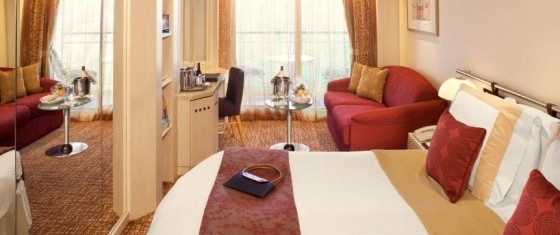 Concierge Class Stateroom w/ Veranda
Category: C1, C2, C3
Little details make a world of difference, and now our meticulously thought out Congierge Class staterooms are even better. Featuring new services, amenities and exclusive events, step inside and discover a space that is so much more than a room – it's an experience. As a Concierge Class guest, your team of dedicated professionals will take care of all your vacation needs. From Priority Check-in – when you're greeted by your Concierge – to the moment you head back home, we're there to assist you Stateroom size: 204sq. ft.; veranda size: 42 sq. ft.
Includes all standard stateroom amenities, plus:
Priority check-in
Personalized Concierge service
Exclusive embarkation day lunch
Destination seminar
Exclusive pre-departure lounge
Priority debarkation
Welcome sparkling wine and fresh fruit
Daily delivery of afternoon services
Stateroom images and features are samples only. Actual furniture, fixtures, colors and configurations may vary. All measurements are approximate; drawing not to scale. Lastly, the configuration of accessible staterooms may vary from the non-accessible stateroom shown here.