Inside Stateroom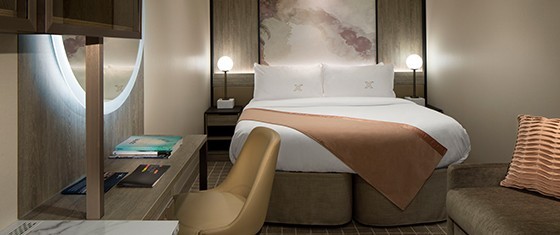 Inside Stateroom
Category: I1, I2
Your escape at sea, Inside Staterooms offer ample living space, including a sitting area and a flat screen TV. Each inside stateroom on board Celebrity includes world-class amenities that all contribute to your modern luxury experience.
Stateroom size: 181 sq. ft.
All standard stateroom amenities include:
Twice daily housekeeping service
Laundry service*
Complimentary beach towel service
Fresh ice delivered to stateroom upon request
24-hour room service*
Celebrity's eXhale bedding
Private safe
Interactive Television system
Mini fridge
Hair dryer
Premium custom blended bath products
*Additional charges apply
Please note that not all amenities available on the Celebrity Summit are included in this charter. Drinks, wi-fi and tips are not included in the base price of a cabin on StarVista LIVE cruises. Stateroom images and features are samples only. Actual furniture, fixtures, colors and configurations may vary. All measurements are approximate. Lastly, the configuration of accessible staterooms may vary from the non-accessible stateroom shown here.