A Message from the Executive Producer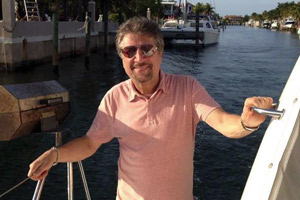 The '70s gave us a lot of fond memories, I remember going to concerts and seeing a sea of bell-bottomed pants, wide lapels, peasant blouses and macramé. Beyond the fashion, and the feel-good vibes that came with the unforgettable era of the '70s, we witnessed the dawning of an amazing decade of melodies and music from phenomenal artists. Superstars then and superstars still today, these artists are winning award after award. Recently, Todd Rundgren (a native to my hometown, Philadelphia) has been nominated for the Rock & Roll Hall of Fame. Take some time and show some love for Rundgren by voting on Google now.
Now Todd Rundgren is just the tip of the iceberg when you talk about the type of top notch caliber of artists we strive to get onboard year after year. In February, you'll have the opportunity to witness these Rock & Roll Hall of Famers in action during spectacular shows in our intimate Celebrity Theater: Cheap Trick, Don Felder formerly of The Eagles, and John Lodge of the Moody Blues. In addition, we have America which earned their very own Star on the Hollywood Walk of Fame, a multitude of GRAMMY winners and nominees onboard including America, Don Felder formerly of The Eagles, Rita Coolidge, Ambrosia, Stephen Bishop, and John Ford Cooley. This doesn't even include how these multi-talented superstars on our roster influenced countless others after them, have appeared in films and contribute to many charitable organizations. A special perk of being onboard is that we'll get to know them even better during Q&A's and panel discussions.
We are proud of all of our '70s Rock & Romance Cruise artists on their accomplishments, their music is incredible, their talent is outstanding and we can't wait for them to share their stories and their music onboard the 2020 cruise.
Alan Rubens,
Executive Producer