A Letter from the Executive Producer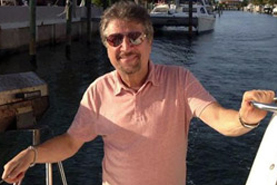 We're counting down the days! Less than a month until we all come together to celebrate the spirit, style and music of the '70s. Most of all, we look forward to reliving wonderful memories and making new ones. This is our final newsletter before we embark on our musical journey at sea. We're putting final touches on the special events, setting up sound checks with our production teams and working with the ship to ensure everything is in tip-top shape before we set sail.
We hope you are getting excited too and dusting off the bell bottoms and platform shoes. In another section of the newsletter, you can read about many of the special events as to how we'll be immersing ourselves into the sights and sounds of the '70s. Please be aware that at StarVista LIVE, we always have extra surprises up our sleeve.
Also unique to StarVista LIVE cruises, is the artists will be participating in special events such as Q&A's, panel discussions and even a wine tasting and vow renewals. Get to know them better by hearing about how they came up with their unforgettable hits and as they share their memories of the seventies too.
I look forward to you joining us as we relive the past and make wonderful memories for the future aboard this Voyage of a Lifetime.
I look forward to seeing you all in 26 days and counting!
Alan Rubens, Executive Producer