"This is Firefall's first cruise, so we're really looking forward to it" Jock Bartley of Firefall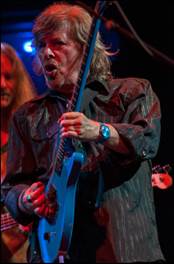 It was a good day to catch up with Jock Bartley; his house in Colorado was snowed in. He was about to do some painting because art is one of his passions, but he took out some time to share stories about himself and Firefall, the band he co-founded and still leads. Firefall came at a transitional moment with the right sound for the time. In fact, the right sound for any time. Their 1992 collection, Greatest Hits, released at the beginning of the CD boom, is still a top-seller, and brings new fans in search of their classic albums. When they join us on the Rock and Romance Cruise, expect to hear their Top 40 hits ("Livin' Ain't Livin'," "You Are the Woman," "Cinderella," "Just Remember I Love You," "Strange Way," "Headed for a Fall," "Staying with It") and much more gloriously melodic Seventies country-slanted pop.
Jock is a great Scottish name. Is it your real name or a nickname?
It's my middle name. Jock was my mother's father. Needless to say, in high school I heard a lot of variations on it!
When rock music turned more melodic and accessible in the '70s, was it because Sixties rock had become so self-indulgent?
I don't think so. After the Beatles and many, many other great bands in the Sixties, there was definitely some self-indulgence creeping in, but I see our music as part of a natural growth process from the Sixties rather than a reaction against it. There were many of us trying to write songs that spoke to our experience, songs that were personal and meaningful. We wanted those songs to reach as many people as possible. I learned technique from a great jazz guitarist, Johnny Smith, who wrote "Walk, Don't Run." He lived in Colorado Springs. I worked on Bach, Duke Ellington, and lots of great composers with him. My mom talked him into working with me when I was eight, nine years old. Then the Beatles came along when I was thirteen or fourteen, and turned my head around to a new way of playing. And then Eric Clapton showed us all how to play it straight from the heart, not read it off a sheet. That was another "Oh, my God!" moment. But one thing Johnny Smith taught me was what NOT to play. In other words, don't overplay.
We think of states like Tennessee and Mississippi as "music" states. Colorado maybe not so much.
I was always a Colorado guy. Born, raised, never left. In the early Seventies, a lot of musicians from California and elsewhere came here. Richie Furay of Poco, Joe Walsh, Dan Fogelberg, Stephen Stills, many others. Of course, John Denver moved to Aspen. I think those guys were on the road a lot, and, after endless gigs, they didn't want to go home to L.A.! They wanted out. Boulder was beautiful, secluded, and it's a college town. Even Willie Nelson had a place here. And then Jim Guercio, the guy who produced the group Chicago, bought a big horse ranch in Nederland, Colorado and started the Caribou Ranch studio. John Lennon, Neil Young, Elton John, Michael Jackson, and many more went there. Any night in a restaurant, there'd be some big star probably eating breakfast. It was an amazing time, even though it only lasted maybe five or eight years. I worked at a music store in Boulder and I played at a restaurant. You never knew who would come in or sit in.
One of your first breaks was getting hired onto Gram Parsons' final tour with Emmylou Harris. Were you musically in sync with their Country Rock sound?
Gram was deep into country music. I wasn't a country guy, but they'd hired a guitarist sight-unseen and he'd gotten drunk on the first date, and really didn't know the set list. The tour was supposed to start in Boulder, and I sat in with them, so they fired the guitar player and hired me. My first gig with them was in Austin. Then we went to Houston, and that was where Neil Young and Linda Ronstadt got up to sing with us. And that was the first time Linda met Emmylou. A couple of days earlier, remember, I'd been painting apartments for a living. Some people came to see us because they knew Gram had been hanging out with Keith Richards, but on the east coast, people didn't know what to make of us.
Firefall started just as Country Rock was becoming a little less "country."
Country Rock was in our lineage for sure. Rick Roberts and Michael Clarke were in our first line-up, and they'd played with the Flying Burrito Brothers (the group Gram Parsons had started), and of course I'd played with Gram and Emmylou. The guy who produced our demo session, Chris Hillman, had been in the Byrds and the Burritos. Mark Andes had been in Spirit and Jo Jo Gunne. The first day we came together, we found we had twenty-five, thirty songs, and we just hit it at the right time. Our first album was on Atlantic Records, and they told us it went gold faster than any album in their history, and they'd had Led Zeppelin, Aretha Franklin, Ray Charles, and so many others. And now we've just celebrated our fortieth anniversary!
The great thing about the Seventies was that you could still experiment. Something brand new had a chance. Today, it's so hard to break anything new. We busted out, and suddenly we were on the road with the Doobie Brothers, we were on the Band's last tour before the Last Waltz, and on Fleetwood Mac's Rumors tour. Some nights, we were playing to eighty or one hundred thousand people.
How did you come up with the name Firefall?
Rick Roberts thought of it. In Yosemite, they used to light a bonfire on the edge of Glacier Point, then push the burning embers over the edge, creating what they called a Fire Fall. It started in the nineteenth century until the Park Service ended it in 1968. But there's a natural fire fall in Yosemite, too. In January and February, the setting sun illuminates a waterfall. Rick Roberts had heard of the Glacier Point fire fall. We put it on the list of possible names, then we whittled it down to two or three, and then it was, "We'll be Firefall."
The flute made your sound unique. Jethro Tull aside, the flute hasn't had a big role in rock music?
There were a lot of five-piece guitar rock bands. Just after we got our record deal, we figured that we needed a utility man who could play sax, keyboards, and maybe other instruments. Rick Roberts knew David Muse, and we hired him. That way, we weren't just another guitar rock band. David still plays with us, and some nights his flute solos get the biggest ovations.
Your albums were heavy on melodic songs. Do you miss "melody" in pop music today?
Do I ever! I'm a melody guy. My strength as a lead guitarist is to play off the singer. I just let my melodic sense take over. It's sad to me that there's not a lot of great melodies in today's music, and to me Rap is the antithesis of "melody." The Beatles, the Eagles, and groups like that had great melodies, and Firefall was in that tradition. The Little River Band had great melodies, too.
We have Peter Frampton, America, Little River Band, Christopher Cross, Orleans, Player, and many other artists from the Seventies. Were you close to any of them at the time, or have you become friends since?
We've all been touring together the last three, four, five years, and we've all become really good friends. It'll be great going on the cruise with those guys, and it'll be great for the fans, too, because you can bet we'll be out on deck jamming on some Beatles songs or other songs everyone knows. And everyone's welcome to sing along, play along. You can pretty much count on some spontaneous jam sessions because we all love to play.
Have you worked on cruises before?
This is Firefall's first cruise, so we're really looking forward to it! Come join us!