A Letter from the Executive Producer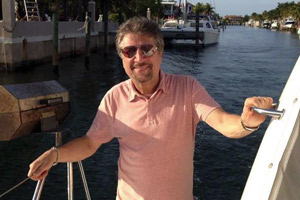 With less than four months until we set sail on our second '70s Rock & Romance Cruise, we can't believe how early we sold out this year. It seems like just yesterday we decided to take on this new and exciting cruise and now it's caught on big time, everyone is telling his or her friends about this tremendous Feel Good Party At Sea! We are eagerly planning new events for you to enjoy this year, scheduling all of the new great talent and some of our returning favorites including America and the fantastic tribute Bee Gees Gold: A Tribute to the Bee Gees plus a few more exciting surprises along the way.
Every year we strive to make all of our cruises at StarVista LIVE better than previous years, and this year is no exception. We've listened to feedback from our alumni and we are working on finalizing the schedule and adding some fun new events. We plan on making this available to you prior to boarding the ship. Keep an eye out in your inbox for an announcement and a link to our website to see important information about your upcoming trip including your booking number so that you may check in online and begin booking shore excursions, beverage packages and more, plus view our schedule of performances and activities to plan your trip.
For those of you who missed the boat, don't forget to sign up for our waitlist and be one of the first to know when a cabin has opened up and is available! You don't want to miss this Feel Good Party At Sea, we're gearing up for it to be the best one yet.
-Alan Rubens, Executive Producer