The '70s Rock & Romance Register Catches Up With Gerry Beckley of America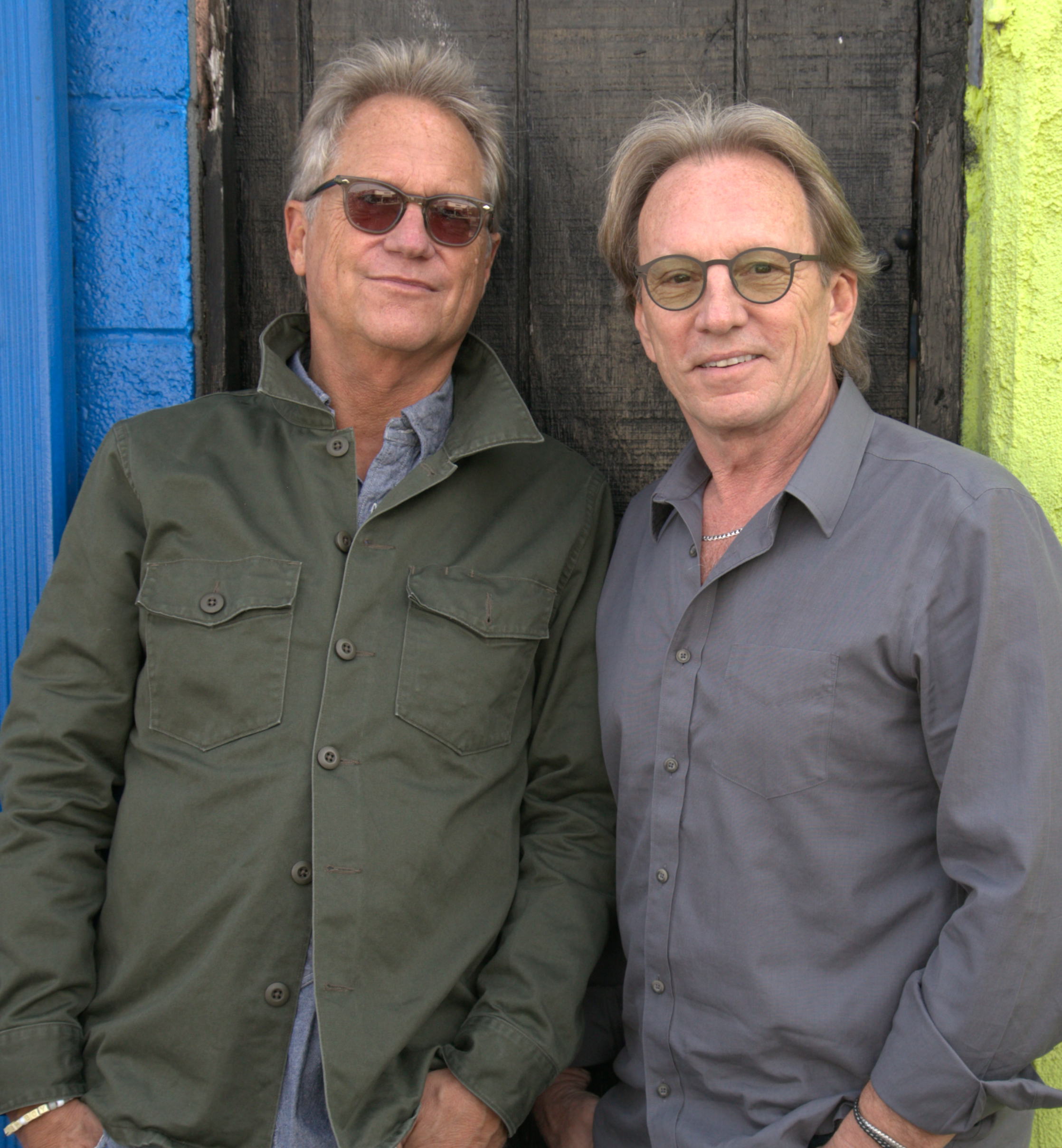 Dewey Bunnell and Gerry Beckley
America went over so well on our debut '70s Rock & Romance Cruise that we had to invite them back, and we're so pleased that they accepted. The sons of U.S. service members, they met up near London, England in 1970, and called themselves America because they didn't want audiences thinking that they were British guys trying to sound American. Success was nearly instantaneous, and they're still in huge demand today playing hits that include "A Horse with No Name," "I Need You," "Ventura Highway," "Tin Man," "Lonely People," "Sister Golden Hair," "Daisy Jane," and "You Can Do Magic." Original member Dan Peek left in 1977 and, tragically, died in 2011, but the other two original members, Dewey Bunnell and Gerry Beckley, have been there all along, and –as everyone who joined us last year will attest— they still put on a terrific show.
Your father was in the U.S. Air Force and you moved around a lot. Is there one place more than any other you regard as home?
I was born in Fort Worth, but, as you say, we moved around. Both Dewey and I had English mothers, and England was where we met, so we call London home more than anywhere else, I guess. My mom's home was in Sussex, England, and I had a home there for a long time. These days, I'm between Venice, California and Sydney, Australia.
You spent some summers in England when you were growing up, even before you moved there. When you came back, did it seem like the country had just exploded into Technicolor after the drabness of the late Fifties and early Sixties?
It had certainly become colorful. We were back in the States during the British Invasion, so we'd only experienced it on television, like everyone else here, so actually going to London was great. We were a commutable distance away, so we dug into Carnaby Street, and the whole late Sixties scene.
Was there a record or an artist that made you think, "Man, I'd like to do that!"? Something that really turned your head around?
Not really. We saw a lot of shows. We saw the Stones in Hyde Park in '69 and a lot of other shows, but we were already working on our music.
Your first major gig after getting together was at the Roundhouse in London with Elton John and The Who. What are your memories of that show?
Elton John had just broken through in the States, and he was really popular in England. The Who, too, of course. And there was a big African band, Osibisa. We were just three teenagers sitting on stools, mostly playing songs no one had heard. Our manager was the resident dee-jay at the Roundhouse, and he got us on a lot of shows there. We played one with Pink Floyd, and they did Atom Heart Mother with a ninety-piece orchestra. Again, we were three guys on stools. But we always went over so well. People liked our songs from the start, so we were very encouraged. We did a few songs by other artists, like Arlo Guthrie's "Coming into Los Angeles," but mostly we focused on our own stuff. Then, after we broke through with the first album, we were approached by David Geffen and Elliott Roberts in Los Angeles, and they became our managers.
Reportedly, you planned to record your first album in the style of Sgt. Pepper, but changed your mind. It was 1970. Did you realize that times were changing and the psych thing had gone about far as it would go?
We were versed in the era. We'd certainly listened to Sgt. Pepper, Pet Sounds, and the "produced" masterpieces of that time. So, yes, there was a tendency to embellish, but we very quickly decided that we needed to capture what we'd been doing. Our first producer, Ian Samwell, and the engineers did a terrific job. Right microphones, right energy. It became a very simple, very lovely album. And of course it did very well.
You called yourself "America" and your songs are rooted in the United States. Did the perspective of living over there influence the way you saw your homeland?
Growing up with your father in the service, you see the world through a variety of tangents. Dan Peek had grown up in Japan and Thailand. Not many American kids could say that. Our perspective was wider than most of our contemporaries back home.
Were you surprised when your first single, "A Horse with No Name," was banned on some American stations for supposed drug references?
We were surprised by EVERYTHING. Some people thought we were Neil Young recording under a pseudonym! But it was a great time. It's hard to argue with that kind of success, and there's some weird stuff wrapped up in it sometimes.
You came back to the United States after the first album. Having spent so much time away, which part of the country did you identify with … and want to live in?
When we came back, I'd never been to the West Coast or New York. I saw California for the first time in 1972 when we played the Whiskey-a-Go-Go. I settled there because our label, Warner Bros., was in Burbank and our managers were there. I saw New York for the first time that year, too.
You went back to England for the fourth album, Holiday. It was produced by George Martin. Could you say a few words about working with a man who even then was a legend?
Our sound had gone bigger, and we were producing ourselves. We were looking for an independent producer. We needed someone we could trust with our music. Preferably someone we looked up to. Someone who could help us grow our sound and our audience. It was a short list and George Martin topped it. And he said yes, but he said we'd have to come back to England. We said yes. He held a couple of months of studio time at his AIR Studio, and we got the Holiday album done in thirteen days. George said, "Nothing that easy can be successful," but of course he was wrong. "Tin Man" and "Lonely People" were from that album. George Martin was a father figure. On the surface, he looked straitlaced, but he was a very funny man. I can see why he related to the Beatles. We needed someone to lead us away from the "three guys with acoustic guitars" sound, and he was part of that evolution. And we gave him his first big successes since the Beatles.
Some of George Martin's arrangements are pretty complex. How do you go about re-creating them on-stage?
You'll see!
Music is wedded to our lives in ways that music and books or music and movies rarely are. What is about music that gives us such strong associations?
I've read that the sense of smell gives us the strongest connotations, but I think it's music. Music can rekindle an emotion or a memory more readily than anything. The songs you hear when you're twelve to eighteen stay with you forever. There's nothing as unique. We hear from a lot of fans about how important our music is to them. How it got them through a rough time, through traumas, tribulations. I always say, "Us, too!" Seriously, though, how great is it to hear something like that?
What was your experience of the first '70s Rock & Romance Cruise?
Magnificent. We had a fantastic time. It was a unique experience. A fantastic combination of meeting old friends, and getting close to the fans in a way that we can't on the road. I'm so glad we were invited back.
Colin Escott © 2017