A Message from the Executive Producer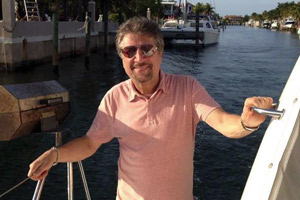 Although for many the summer is a time to relax and enjoy the warm weather, all of us at StarVista LIVE have been working hard to ensure that all is in order as the upcoming cruise season draws closer. This is especially true of the '70s Rock & Romance Cruise in its expansion from five days to seven days. A longer cruise means more artists, more logistics planning, more of the live performances we know and love and more fun for all guests. To date, we are still actively working on securing more legendary artists to sail with us in February of 2020, in order to provide you all with the opportunity to travel back to the '70s and relive your favorite memories and music of the era. We are always striving to craft the perfect experience for you and make each year better than the last.
The fourth sailing of the '70s Rock & Romance Cruise is bringing together some new faces, as well as some old fan favorites. We'll be joined by Cheap Trick (special appearance 2/18), America, Don Felder formerly of The Eagles, Randy Bachman founder of Bachman-Turner Overdrive and the Guess Who, Todd Rundgren, John Lodge of the Moody Blues, Jason Scheff - Longtime Lead Vocalist for the band Chicago, Jefferson Starship, Rita Coolidge, Ambrosia, and so many more, in over 50 LIVE performances all around the ship!
We're also bringing back the artist-led interactive events like Q&As, panel discussions, game shows, and wine tastings to fully immerse you in the 1970s. The only difference? We'll get to enjoy a week of unbelievable music and fun as we sail to our Caribbean destinations on the Celebrity Infinity.
We can't wait to spend seven unforgettable nights with you in February of 2020 and make even more life-long memories onboard.
Alan Rubens, Executive Producer