Randy Bachman: A Career in Overdrive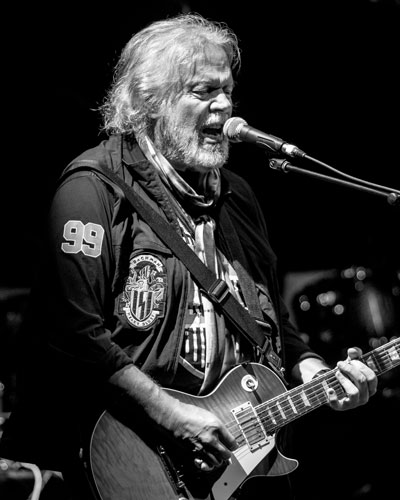 Randy Bachman is one busy man. The rock icon never stops touring and writing and recording, but in the past year alone he's also been the subject of a documentary film, hosts a weekly radio show and spends his free time mastering new genres of music. We can't tell you how excited we were when he took a break from his never-ending workday to talk to us about his career, everything that's kept him busy for the past few years, and what he's looking forward to on the '70s Rock & Romance Cruise.
Randy Bachman's energy lights up the phone the second he answers, which explains how one man can write and perform rock, jazz, blues, country, collaborate with orchestras, host a weekly radio show and be the subject of a critically-acclaimed documentary without breaking a sweat. Oh, and he used to be in a couple of groups you may have heard of called The Guess Who and Bachman-Turner Overdrive. To understand what fuels his limitless creativity, he takes us back to the beginning of it all, to those early days of The Guess Who.
"When 'American Woman' hit #1, it was the summer of 1970 and the album was #1, too," Randy recalls. "I was having a health issue and literally had to leave the band to the hospital and be under a doctor's care. To leave that was heartbreaking. Adding to it all, some of the band were living in drug culture and I wasn't, I was pretty much a straight arrow. And so, I was thrown out of the band and told I'd never make it in the music biz," he continues.
"It took a year to get healthy and by then I was determined to make it again. After you've been in a band and hit #1, you don't want to sell shoes or work in a car wash," he says about his mindset in the days and months after leaving The Guess Who. "You're pretty much committed to music."
"I'd run around in the middle of the night, making loud music in the basement. After touring so much, your body gets used to that kind of schedule and your adrenaline kicks in at about 9pm and if you don't expend all that energy you get restless. So my wife said to me, 'you gotta start another band to use up all of this energy with,'" he laughs. "But no one would start a band with me. So, I went to my two younger brothers (my other brother became our manager) and I got Fred (Turner) to be our lead singer and we worked and worked and did 300 gigs in our first year, then 330 the next, and then 310 the year after that. I became obsessed with making it – there was no obstacle I couldn't overcome."
Randy's relentless pursuit of success drove the band to release eight albums in seven years and hit #1 on the album and singles chart. Their songs "You Ain't Seen Nothing Yet" and "Takin' Care of Business" have fans of every generation singing along to this very day.
Once Randy cemented his place in rock history, he set out to conquer even more. He recorded "Heavy Blues" in 2015, a bluesy rock album featuring Neil Young, Joe Bonamassa, Robert Randolph, Peter Frampton and the late Jeff Healy, calling it "one of the most exciting things I've done", just a few months after he debuted his Symphonic Overdrive, performing symphonic interpretations of his hit songs with a series of orchestras. He made a pair of jazz albums, paid tribute to one of his biggest idols, George Harrison, with "By George By Bachman" and he's helmed a weekly radio show, Vinyl Tap, for 15 years ("the most fun I've ever had with my clothes on"). So, it comes as no surprise that he's also the subject of a critically acclaimed documentary, "Bachman."
"It was pretty flattering to see Peter Frampton, Neil Young, and all of the other people in the film, because you go through your life just trying to do your best, you have no idea who your fans are and if some of your fans also happen to be famous. You don't really know they know you're alive," he says humbly.
Fans of all walks of life will be letting him know just how important he is to them when he steps aboard the '70s Rock & Romance Cruise next year. "It's an intimate experience," he explains. "You end up hanging out with people who might have been going to your concerts for 20 years. To be doing this with America, Cheap Trick and Todd Rundgren…it's going to be a real special time to hang out with them and say hi to their wives again. It's just fun to see everybody and where they are now. There's going to be a lot of love there for music and each other. We're all fans of each other, which is kind of cool, so we'll all be in each other's audience."
We couldn't agree with Randy more and will be saving him a seat at all the concerts on the cruise.