It's Your Turn to be a Part of History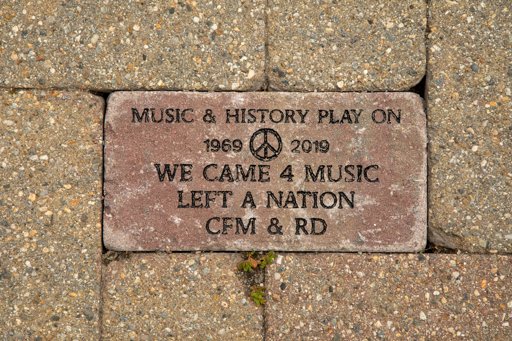 Almost fifty years ago, history was made when half-a-million people gathered peacefully for the Woodstock festival – a celebration of music, civility and freedom of expression. Bethel Woods Center for the Arts, the non-profit organization at the site of the iconic festival, perpetuates this legacy as a program-driven cultural organization that includes The Museum at Bethel Woods, museum and education creative programming and a state-of-the-art outdoor music venue.
As the 50th anniversary of the iconic weekend approaches, patrons from all over the world are welcomed to be a part of history once more by celebrating their own personal legacy via Bethel Woods' Anniversary Paver Program. Each 4″x8″ commemorative brick paver purchased is etched with a personal message, stamped with an exclusive 50th anniversary insignia and incorporated into the classic design of the venue entrance pathway. Individually, the pavers are a unique memento; together, they exemplify the arts' ability to unify the masses.
A one-time tax-deductible donation of $269 ensures that local, national and international visitors can explore and understand the social and political impact of the 1960s, as well as how these experiences are inextricably linked to contemporary cultural expression and freedom. As stewards of a distinctive heritage site, gifts will directly help the cultural center achieve important plans for the benefit of future generations, including the opening up of a newly restored trail systems in the Bindy Bazaar Woodland, restoration of the Woodstock stage area and the creation of a scenic interpretative outlook at the top of the field.
For more information and to purchase your commemorative paver, please visit the Bethel Woods site.