Meet Your 2019 Host, Peter Asher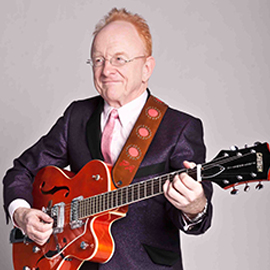 The '70s Rock & Romance Cruise is delighted to announce that your host for the 2019 sailing will be Peter Asher. Still best known as half of the '60s duo Peter & Gordon, Peter moved to the other side of the studio glass to become very successful in the '70s as the producer of James Taylor, Linda Ronstadt, Bonnie Raitt, and several others. He was also one of the original partners in West Hollywood's now-legendary music venue, the Roxy.
These days, Peter's more visible and audible than any time since the '60s. He has hosted the last two sailings of StarVista Live's Flower Power Cruise. His music and memories show plays in select venues around the country. And every week he hosts his own show on Sirius-XM's Beatles channel. In case you weren't aware, Peter & Gordon's first record, "World Without Love," was written by Lennon-McCartney, and Paul McCartney not only dated Peter's sister but lived in the Ashers' house for a year or so.
Peter knows several of the artists on the '70s Rock & Romance Cruise, sometimes for reasons you wouldn't guess. For instance, John Hall of Orleans was married until 1985 to journalist and songwriter Johanna Schier, and Peter remains forever grateful to Johanna for the first positive American review of James Taylor's J.T. album. (And here's some Seventies trivia: John and Johanna Hall wrote "Half Moon," the B-side of Janis Joplin's single, "Me and Bobbie McGee").
We talked to Peter just as the news was breaking of Aretha Franklin's passing, and so we began with Peter expressing his admiration for the Queen of Soul.
I can say I officially met her. Backstage for a few seconds. But, of course, I was a great admirer. I don't think I know anyone who isn't. She had one of the best voices in the history of the universe.
Everyone on-board loved your hosting style on the Flower Power Cruise. Thank you so much for agreeing to host the '70s Rock & Romance Cruise, too.
The Flower Power Cruise is great fun. And a great time. I get to torture people with my singing and my stories. I meet a lot of interesting people. Hear some great music. Hear some very touching stories. People come up and tell me that they proposed to their wife when one of my songs was on the radio. Things like that. I'm sure '70s Rock & Romance will be just as much fun. I must say didn't expect the call, but of course StarVista was aware that I'd had a '70s career. I just wasn't as visible. So next winter I'll be doing three cruises in a row. First, Flower Power, then '70s Rock & Romance, and then my wife and I fly to Ecuador to take a cruise to the Galapagos Islands because it's one of the places we've always wanted to go. So we'll be on three cruises going to different stops and sailing different seas.
You've been in and out of the United States, mostly in, for fifty-five years. Is there anything about this country that Americans often take for granted, but still amazes you?
The size. If you come from Europe you can't fail to appreciate the size. And the diversity. It's so huge geographically and conceptually. And it's so inclusive. All three are what makes this country great, and that's why I don't like seeing inclusivity under attack.
You were present at the creation of '60s rock AND '70s rock. Music didn't change in January 1970, but how do you think it evolved in the Seventies?
One thing was the advent of the singer-songwriter. In the '60s, the concept of the singer-songwriter as a category didn't exist. Artists like Joni Mitchell and James Taylor were called "folk singers" even if they'd never sung a folk song in their lives. I think the rise of singer-songwriters exploring their own lives and psyches were part of what made the '70s different. Those artists changed music. Rock bands became more musically adventurous. We'll have Foreigner on the cruise, and a song like "I Want to Know What Love Is" is one of those songs that's so great you can't believe it once didn't exist.
In the '70s, did you look at Linda Ronstadt or James Taylor on television or in concert and think, "Maybe I'd like to get back into performing."
Quite the opposite. I'd look at them and think I shouldn't get back into performing.
When did performing miss you? When did you start getting requests to get back together with Gordon?
Almost immediately after we split up, we had requests to get back together, but the hiatus lasted thirty-seven years. Paul Shaffer was doing a benefit for Mike Smith of the Dave Clark Five at B.B. King's club in New York. Paul asked me, and it's hard to say "no" to him because you know it'll be well-organized. I called Gordon, and I was pretty sure he'd do it. It went very well. We sounded like us. It was not a weird thing at all and we enjoyed it, so we continued to do concerts every now and again until Gordon died in 2009.
You worked with several artists who'd come to sessions with their own songs. Did you instantly hear in your head how you'd like those songs to sound, or was it a collaborative process building the record out of the song?
As a producer, you're part referee, part psychologist. With James Taylor, for instance, we'd get together at my house in the morning and listen to his songs, then go to the studio in the afternoon. I'd hear the songs and instantly get ideas, but, unless you're Phil Spector, it's a collaborative process. The backing musicians would have ideas, too. Very often, the producer's job is to keep things moving. You have to know when to stop doing overdubs or when to stop redoing the vocal. You have to speak up and say, "It sounded better ten takes ago." You can polish something until it disappears.
You have a weekly show on Sirius-XM's Beatles channel. Have you enjoyed the experience?
Very much, but it's hard work. I have to write it and record it every week, and that means I'll have to have a backlog of shows when I'm on the cruises. But the show has become a big hit. It has been an intimidating, but wonderful experience.
You were one of the producers on Ringo's Time Takes Time album in 1992. Was that the last time you saw one of the Beatles?
Oh no, I see Ringo quite often. He and his brother-in-law, Joe Walsh, are an inseparable duo these days, and I see them around Los Angeles. I've known Joe a long time, almost as long as Ringo. I had dinner with Paul a year or so back.
Those are the kinds of stories I think we all want to hear. You've said you won't write your autobiography, so having you host the '70s Rock & Romance Cruise will be the next best thing. Thank you for joining us.
If my experience on the Flower Power Cruise is anything to go by, it will be great. StarVista really does a terrific job. The fans tell me so and the artists tell me so. I love all the performers, so I'm confident it will be just as much fun!
- Colin Escott © 2018