The Register Speaks to Don Felder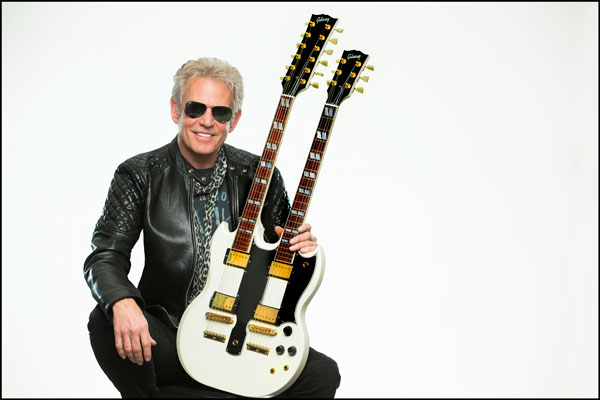 The '70s Rock & Romance Cruise is all about great music and we're so excited just thinking of all the truly incredible musicians who will be performing on next year's voyage. Last week, we got a chance to talk with one of the best, Don Felder, just hours before he attended the opening of "Play It Loud: Instruments of Rock and Roll" at New York's Metropolitan Museum of Art – an exhibit that features more than 130 instruments owned by icons of rock.
Our conversation starts as Don navigates through the busy streets of New York, on his way to prepare for the The Metropolitan Museum of Art's gala that will launch "Play It Loud: Instruments of Rock and Roll." "It opens today," Felder explains, "and it's just such an honor. I moved to New York back in 1968 with a guitar in one hand and a suitcase in another. The first day I was here, I went to the Met and spent the whole day walking around. I couldn't get enough of it. So to be back here, 50 years later, and see my own guitar hanging on the wall is just the most amazing experience." The exhibit will run from April 8 through October 1, 2019 and features the most influential instruments in the history of rock and roll, including guitars owned by Chuck Berry, Eric Clapton, Jimi Hendrix, Eddie Van Halen and Jimmy Page, Keith Moon's drum set and more.
In the midst of all of these artifacts hangs Felder's "white double," his signature double-necked Gibson that he's performed "Hotel California" on for over 40 years. "About four years ago, I played a concert in New York with Steve Miller," he continues. "The last song we did was 'Hotel California' and when my guitar tech walked out onstage to hand me the guitar, the crowd goes wild because they all know what's coming next. A guy who's the curator at the Metropolitan Museum of Art is in the audience and sees the powerful connection between not just the song and the audience but also between the guitar itself and the fans. And so my guitar is hanging in the Met as a result of that night," he reveals with excitement and awe in his voice.
The new exhibit opens just days after the release of Don's latest album, "American Rock 'N' Roll," an aptly-titled masterpiece constructed by a collection of Don's friends, who just so happen to be among the most gifted artists in rock and roll: Mick Fleetwood, Peter Frampton, Sammy Hagar, Jim Keltner, Alex Lifeson, Orianthi, David Paich, Steve Porcaro, Richie Sambora, Joe Satriani, Slash, Chad Smith, Bob Weir. The album's warm and laid-back feel has us picturing Don hanging out at home, jamming with friends who drop by, pick up an instrument and join in. "It was like a party," Don says, describing the atmosphere in the studio. "When it's fun, good things happen. And there was a lot of fun. We had a ball."
The collaborative spirit for "American Rock 'N' Roll" is markedly different than Don's concept for his previous album, 2012's "Road to Forever." "I just wanted to do it all myself, so What happed is my last album I think in 2012 I played everything," he explains. "It came out really great but I thought it lacked that spontaneous fire that you get when you sit down and play guitar with someone new. So I really wanted to do that on the new album and bring in a different kind of feeling. If you go back to listen to 'Hotel California,' there is a line that goes 'we haven't had that spirit here since 1969' (which was a reference to Woodstock's energy) and it's what I really wanted to do – gather up a lot of talent and create a feeling of spontaneity that you don't hear a lot of today."
So Don started inviting people to join him on the new album, like Sammy (Hagar) and Joe Satriani. He even enlisted both Mick Fleetwood and Chad Smith (Red Hot Chili Peppers) to play on the title track. "It's about the history of rock, so I loved the idea of having Mick start it off with a certain kind of sound and feel and then Chad takes over as I'm singing about edgier bands and the song takes on a greater intensity. And Slash lives down the street from me so I asked him to play on the part of the song where I mention his name. He came up the next day and had so much fun that we played the whole record together."
That's right, everyone who appears on "American Rock 'N' Roll" is a friend of Don's. "It was totally inadvertent," he insists. "It wasn't like I sat down and made a list. But I would listen to each song and think about who the right person for each one would be, thinking about style and talent and how they played."
"For example, I had toured with Peter Frampton, and at one point he took out a Les Paul and plugged it into a Leslie speaker and it made a heavenly, aesthetically beautiful sound. I knew that tone would be great for one of the songs, so I hopped on a plane and flew to Nashville to meet up with him in the studio. We mostly sat around and told stories and jokes," he laughs, "but when it came time to lay down the track, it was perfect."
"I was at Richie Sambora's house recording his part for the album and Orianthi walked in and created a solo track for the record out of the blue," he recalls. Don even enlisted his daughter, Leah, to sing backing vocals on several tracks.
Will we get to hear any of these songs on the 2020 Rock and Romance Cruise? "Definitely," Don assures. He'll mix several of the tracks from "American Rock 'N' Roll" in with his classic Eagles hits and might even have his "white double" guitar with him for the voyage. When his guitar tech carries it out onto the stage that night, we'll be roaring with excitement.