A Letter from the Executive Producer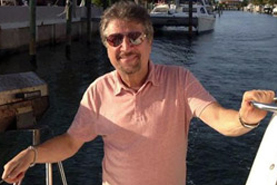 We're back from another phenomenal cruise season! And what a season it was! We kicked off with our 9th annual Malt Shop Memories Cruise and put together 6 other cruise themes for everyone to enjoy in the span of just over three short months. We witnessed some pretty incredible mainstage acts on all of the cruises especially on the 2019 '70s Rock & Romance Cruise. Who else can say that Kelly Hansen of Foreigner ran through the audience of them and 1,000 of their closest friends? I am extremely lucky to have such an amazing job, but the biggest reward is seeing all of our guests having fun onboard and reminiscing with everyone about the good times and the great music from our youth. Even though the cruising has ended for now, that doesn't mean the work slows down! Our team is busy de-briefing on the customer experience, securing additional artists to be announced and starting to build schedules for all six of our upcoming cruises.
So far we've got over 50 LIVE performances for you on the 2020 '70s Rock & Romance Cruise from Cheap Trick (special appearance 2/18), America, Don Felder formerly of The Eagles, Randy Bachman founder of Bachman-Turner Overdrive and the Guess Who, Todd Rundgren, Jefferson Starship, Rita Coolidge, Ambrosia, Pablo Cruise, Stephen Bishop, Peter Beckett's Player, ABBA the Concert: A Tribute to ABBA, All You need Is Love, Beatle Brunch Radio Host Joe Johnson, and so much more! We are talking with artists and management every day to bring you the ultimate rock shows and the best vacation you've ever had! So, if you haven't yet, book now before it's too late, and reminisce in the feel good vibes of the '70s onboard the Feel Good Party At Sea! We're already over 50% sold, don't miss out!
Alan Rubens, Executive Producer