The Register Speaks to Jeff Pilson of Foreigner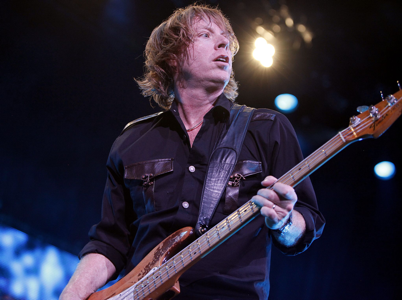 Foreigner rocks romance like no other band. Their power ballads are among the greatest love songs of all time, delivered with passion, fire and an electric guitar solo or two. We swoon to "I Want To Know What Love Is," "Waiting For A Girl Like You," "Say You Will" and "I Don't Want To Live Without You" then turn around and rock out to "Double Vision," "Jukebox Hero," "Hot Blooded," "Urgent" and "Feels Like The First Time." We recently got a chance to ask Jeff Pilson about the magical combination that has made Foreigner into one of the most successful bands of all time and what it's like to carry on their legacy.
Fourteen years ago, Jeff Pilson stepped onto the stage with Foreigner for the very first time. His career up until that point had rocked, performing with hard-edged bands like Dokken, Dio and even Starship. But when he joined Foreigner, the pieces fell into place like never before.
"I was a huge Foreigner fan, so it made joining the band very easy and natural for me," Jeff explains. "In some of the harder-edged bands I was in during the early '80s, we actually modeled ourselves after bands like Foreigner - we were trying to do heavy music with great songs, big choruses and great musicianship, which is very much what Foreigner set out to do."
"It was very exciting to me," he continues, telling his story about meeting Mick Jones on that fateful day. "I had never met him before and he turned out to be this great guy with a great legacy and the best stories ever. Boy, I could do an entire interview about his stories," he laughs. "And then when we played together it felt like a real, natural connection and we've been close ever since."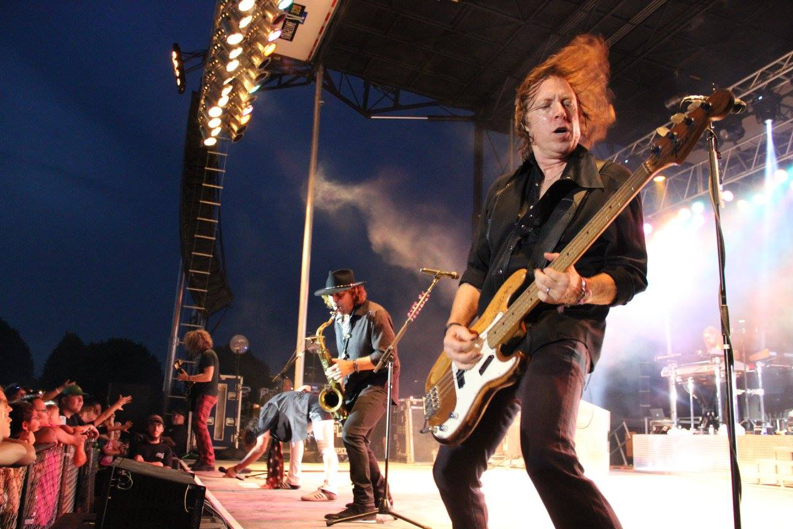 Jeff soon extended that bond to all of the original members of the band. "I think they trust us now, the original members, and Mick certainly does. I think they realize that we all really respect the legacy, we put out 110% every night and we really stay true to the principle of Foreigner – great hard rock, great songs, great choruses but also a lot of texture and a little bit of R&B in there. It makes for a very powerful package."
In the ultimate seal of approval, every original member has made special appearances with the current lineup. "Name a band that's cool enough to do that," Jeff says in awe. "Last year, during the band's 40th anniversary, Mick said 'it's important that we share this with the guys who started it.' Prior to that, we had gotten each of the original guys onstage with us at some point or another but to get all the guys together in one place (Jones Beach, NY) and to get to play with them was so great that we ended up doing it again at Sturgis and during four more shows after that."
So, what's that like to perform with your heroes, to come together and play the songs they've entrusted to you? "It's an added dimension and I have to say the coolest thing about it is the fact that we can and do make it happen, where most bands wouldn't. It's fun for the fans and it's a show of solidarity that we're all up there together. It really makes the statement that Foreigner is about the music, not the personnel. What more can songwriters and a band ask for than to have their music be timeless and universal? That's a pretty amazing thing."
Speaking of fans, Jeff marvels at how the band has amassed such a great and wide-ranging group of followers. "Because the songs have gone into that stratosphere of timeless classics, we've got such a wide audience. We see younger people at the shows who are singing along to all the words and we know they weren't there when the songs first came out," he laughs. "So either they're learning about the music from their parents or from a lot of the TV shows that feature the songs. There really are people from 8 to 80 at Foreigner shows and it's a really cool thing."
That kind of support has inspired Foreigner to continue to grow and expand creatively. Earlier this year, the band released "Foreigner With the 21st Century Symphony Orchestra & Chorus." "It's us, performing in Lucerne, Switzerland last year with a full orchestra and choir. We still rock it out but it's got this wonderful orchestration element to it. It was a Number 1 classical album on the Billboard charts, which was totally unexpected but a great little bonus and we're just really excited about it. You gotta check it out – it's fabulous," Jeff says excitedly.
Jeff's also excited about spending time with these fans during '70s Rock and Romance Cruise 2019. "There's an intimacy about a cruise that is like nothing else," he explains. "I think fans, and I've certainly found this as a fan myself, find that it creates something they've never had before, they get to experience their favorite music in a whole different way after so many years. I've seen bands on cruises that I've been fans of forever, have seen them in other settings, but seeing them on the cruise, it feels like being around friends. It really lends itself so well to the connection that the performer and the audience can make. And to have that experience is pretty overwhelming and wonderful."
We couldn't agree more, Jeff, and can't wait to bond with you aboard the cruise next year!