A Letter From The Executive Producer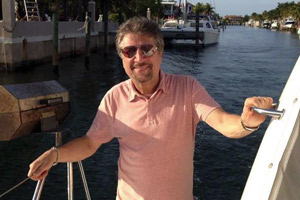 Greetings friends and loved ones. The holiday season is my favorite time of year. Everyone is spending time with loved ones and grandkids and we will soon be with our extended cruise family beginning in January and continuing through our '70s Rock & Romance Cruise and Flower Power cruise sailings in early April. This time of year, I am thankful for the great opportunities that have led me to producing these music themed cruises. Not many people get the opportunity to do what they love each and every day, and, believe me, I do and don't take it for granted.
When StarVista LIVE started in 2009 with the inception of our Malt Shop Memories Cruise, I had no idea this would extend to seven theme cruises that allow us to celebrate so many genres of music by phenomenal artists from the '50s all the way through the '90s. As this year comes to an end, my team and I are hard at work preparing for our 2019 cruises including last minute logistics, travel details, and performance schedules. Among all of that, we are hard at work preparing to show you what we have in store for our 2020 cruise season. An exciting thing I can share with you now, is that we'll be moving to seven days in 2020 to give you more shows, more Q&As, more theme nights and more artists! All of that is in the planning stages now so look out for details on the '70s Rock & Romance Cruise 2020 and all of our other 2020 sailings as we approach March.
For now, enjoy the holidays and join us in being thankful for all the wonderful artists that have brought beautiful music and memories to our lives.
Happy Holidays!
Alan Rubens, Executive Producer