AquaClass Sky Suite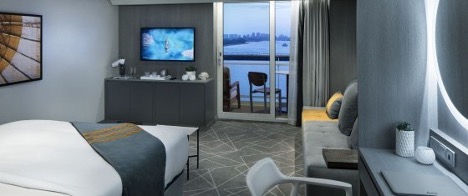 AquaClass Sky Suite
Category: AS
Upgrade your vacation with our exceptional AquaClass Sky Suite experience which includes unlimited access to the Persian Garden, complimentary dining at Blu, and personal spa concierge. Enjoy a warm welcome with a cool bottle of sparkling wine. Gain exclusive access to suites-only venues such as The Retreat® Sundeck, The Retreat® Lounge, and your private suites restaurant, Luminae. Indulge in the luxury of a personal butler throughout your stay, assisting you with unpacking, reservations, and more.
Stateroom size 251 sq ft., veranda size 57 sq. ft.
Includes all standard stateroom amenities, plus:
Exclusive access to The Retreat Sundeck
Exclusive access to The Retreat Lounge
Exclusive access to Luminae restaurant
BLU and Main Dining Restaurant access upon availability
Priority Spa Reservation
Complimentary Fitness Classes
Complimentary in-stateroom Fitness amenities
Spa Concierge
Exclusive Spa treatment package discounts
Wellness Consultation
Spa Personal Training sessions
Spa Unlimited access to Persian Garden
Enhanced Wellness TV on Demand
Yoga Matts (2)
Priority check-in and early debarkation
Personal butler service
Welcome bottle of sparkling wine
In-suite specialty coffee
Veranda with lounge seating
Upgraded breakfast menu
Please note that not all amenities available on the Celebrity Summit are included in this charter. Drinks, wi-fi and tips are not included in the base price of a cabin on StarVista LIVE cruises. Stateroom images and features are samples only. Actual furniture, fixtures, colors and configurations may vary. All measurements are approximate. Lastly, the configuration of accessible staterooms may vary from the non-accessible stateroom shown here.