A Message from the Executive Producer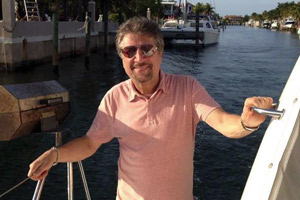 The heat of the summer has all of us at StarVista LIVE reminiscing on those wonderful summer days and nights of the '70s – spending countless hours at the beach, at the drive-in, at concerts and of course, listening to all of our favorite songs on the radio. Those songs truly were, and arguably still are, the soundtrack to our lives. Each song had a unique sound with passionate melodies, meaningful lyrics, big guitars and drums that brought something special to life.
It amazes me every day that I have the opportunity to work with such talented artists and StarVista team members to put together something as unbelievable as the '70s Rock & Romance Cruise. It's rare to be able to do what you love every day, and I'm so lucky to be able to say, honestly, that I enjoy every moment.
We have been anxiously counting down the days until we set sail and are working hard to give you the best experience as we travel back in time to the '70s. As you probably know, we have recently added the Edgar Winter Band, and are excited to have them join our most star-studded lineup to date. And happily, that's not all that we have in store, there will be over 50 LIVE performances from the bands that rocked our world including Cheap Trick (special appearance 2/18), America, Don Felder formerly of The Eagles, Randy Bachman founder of Bachman-Turner Overdrive and the Guess Who, Todd Rundgren, and so many more.
We can't wait to see you all onboard for the Feel Good Party at Sea. We'll show you what it's all about and look forward to making even more unforgettable memories onboard.
Cheers!
Alan Rubens