Going Solo With John Lodge: Not Just A Singer In A Rock and Roll Band Any More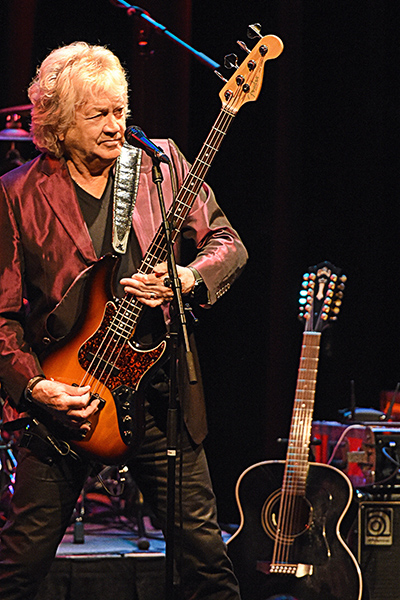 We're huge fans of the Moody Blues and just can't get enough of them, always hoping to find ways of seeing and hearing more of the band. So we've been secretly wishing for years that John Lodge would record another solo album or head out on a tour in between his shows with the Moody Blues. And in 2015, he did! The bassist/singer/songwriter and all-around legend released his second solo album (the first was all the way back in 1977), "10,000 Light Years Ago," and by 2016 headed off on a solo tour for the very first time ever. On August 23, he returns with the release of "B YOND The Very Best Of," a collection of new songs along with modern updates of his classic Moody Blues and solo work.
We caught up with John just a few days after he wrapped his summer tour with Yes, Carl Palmer's ELP Legacy and Asia. He told us all about the upcoming album, his newfound passion for solo work and what he's most excited about doing on the 2020 '70s Rock & Romance Cruise.
Between the new album, the big summer tour and his upcoming performance on the cruise, we wondered what inspired John to finally step into the spotlight in 2016 without his Moody Blues brothers for the first time in five decades. "When I went into the studio to do "10,000 Light Years Ago," I thought I must go on the road and enjoy it and share it with the audience," he explains simply. "When I made 'Natural Avenue' (in 1977) I never went on the road and really regretted it. I'm not going to make that mistake again, I thought. I really wanted to get on the road and play this music." "When you write a song, you can be sitting down at 4 in the morning with a piece a paper and a guitar or piano and wonder if anyone's ever going to hear it," he continues, "so it's important to get out there and perform the song for people."
John fell in love with doing double duty as a solo artist while still rocking with the Moody Blues, which formed the basis of his latest album, "B YOND The Very Best Of." "The whole thing came together because of vinyl albums," he explains. "About four or five years ago, when vinyl albums came back, I thought: 'I love vinyl and that's what I want to do.'" At about the same time, he began to spot new generations of fans turning up at concerts. "I noticed I've been getting a really young audience and realized I need to put a showcase together so people can say 'That is John Lodge,' to establish the fact of who I am both outside of and also within the Moody Blues at the same time. That's what I'm hoping will come from the album…it sort of opens the door to my music and perhaps go backwards so fans – both new and old – can learn more about it."
With 50 years of incredible music to choose from, how did John select the tracks to take fans on that journey? "It was actually almost self-choosing because I'd already wanted to revisit a couple of songs from 'Natural Avenue' and then one of the songs, "Say You Love Me," was in a movie last year and that's what really got me started thinking about the album. So I actually went and got the original 24-track master tapes. I baked them, digitized all the tracks and went into the studio and remixed 'Say You Love Me' as if I was making the record in 2019, not from the creative point of view but in the mix. I wanted the album to sound as though it was recorded today, in 2019. Not to be sort of just a greatest-hits or compilation album. I didn't want that at all. And with that in mind, going back into the studio was really exciting for me. I wanted every song to have the same audio panorama. I wanted the sound of every track to be as viable and dynamic as the track before."
"Another song of mine, called '(Evening) Time to Get Away," was sort of buried as a deep cut on the 'Days of Future Past' album and I really wanted to revisit it because I've been playing it on stage and have been getting a really strong reaction. So, I went back in and re-recorded it completely. It's been on a #1 album around the world and didn't even have a credit on the album sleeve at first - it was called 'The Afternoon,'" he laughs. John also included a tribute to Ray Thomas, who he first met when he was just 14 years old. "He wrote a song called 'Legend of a Mind' and I wanted to re-record it to keep Ray's music alive," he explains with affection.
For "B YOND," John turned to the music he's loved dearly throughout his career, bringing along a few old friends to help him, including the Fender Precision Sunburst Bass that he's recorded all his Moody Blues songs with and also asked his longtime artistic collaborator to design the album cover. "I wanted Roger Dean to do the artwork – he did 'Natural Avenue' and '10,000 Light Years Ago' and all the Yes albums as well. He's created a beautiful piece of art."
John has big plans to share this new spin on his classic songs with '70s Rock & Romance Cruise guests next year. "I'll be doing a really long set hopefully," he says with excitement in his voice. "It will be a really good showcase and I've got some surprises up my sleeve as well."
No stranger to cruising, John envisions the upcoming Rock & Romance voyage as "a floating festival." "Everyone is on that cruise for two things: music and friendships," he explains. "They're there to listen to the music and meet new and old friends and really be there for the community. For me, it's really nice to meet the fans and discuss the music. Everyone's got their own story and it's so nice to listen to those and hear how they've become intertwined with my music."
But what he really looks forward to is performing for the R&R fans. "I've learned over the years that it's not just me on stage, it's the audience, too. It's all of us together. It just makes a concert so special and is the most important thing to me. I do a song called 'Saved By The Music' and people seem to understand the lyrics which seem really resonate with them and they enjoy singing it along with me. It's very emotional. Sometimes we can actually stop playing a song altogether and the audience still sings. That's so incredible."
"Getting onstage and sharing the music, it's what I do," he says, simply. "I didn't find music until I was 13 years of age. Suddenly I heard this thing called rock and roll and it excited me and that was it really. I had to become part of it."
We're 'B YOND' excited that he's also going to be a part of the '70s Rock & Romance Cruise and are ready to share all of our Moody Blues stories with him in February.