A Letter From The Executive Producer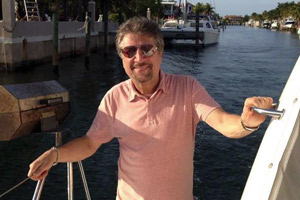 We're getting ready to set sail on what is sure to be another fantastic adventure on the '70s Rock & Romance Cruise. We have been hard at work finalizing some pretty incredible programming to make this year's cruise the best one yet! We can't wait to welcome some new names and old favorites back to the stage on the Feel Good Party at Sea. The LIVE performances and artist experiences are truly something special that many of us will never forget. This year, get ready for the most packed schedule of events that the '70s Rock & Romance Cruise has ever seen!
In the midst of putting some finishing touches on the 2020 cruise, many of us at StarVista LIVE are already working hard to plan our 2021 sailing. We have recently announced a few folks that will be joining us next year, and we're still looking to add a few more artists to make this trip back to the '70s even more special. We're extremely excited to bring back some artists of past cruises including Foreigner, Air Supply, The Guess Who, War, B.J. Thomas, and Badfinger featuring Joey Molland. Plus, we're thrilled to bring some new faces to the '70s Rock & Romance Cruise in 2021, including 10cc, Jim Messina, The Family Stone, Melissa Manchester, Pure Prairie League, and Toast performing a tribute to Bread. Cruise Host Peter Asher will be back to guide us on this amazing trip to the era we know and love as we sail from Miami, FL to St. Maarten and St. Thomas. We're already looking forward to seeing the outstanding talent that these icons have to offer and meeting many of them face to face.
We can't wait to see you onboard in a few short days to bring back the good times and good vibes of the seventies on the 2020 cruise, and we hope you'll join us in 2021!
Alan Rubens,
Executive Producer