One guitar, two guys, a symphony… and more in store?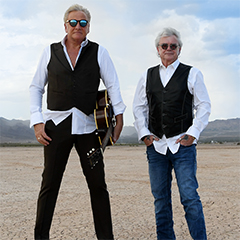 When Air Supply first started out, they were just "one guitar and two guys" playing at the local coffee houses, clubs and even pizza parlors in Melbourne, Australia. As time went by, they added a few band members to help them rock out onstage, but never strayed from that original formula that brought the duo eight Top 10 hits, countless awards and tours that have taken them around the world and back dozens of times (a set of phenomenal voices and a rare talent for writing irresistible songs might have had something to do with it, too).
Last year, on Valentine's Day of course, Air Supply released "The Lost In Love Experience," a double album recorded with the Prague Symphony Orchestra. "We'd pretty much done everything else," Russell Hitchcock explained. "Four or five live albums, live concert videos…and we do a lot of symphony shows around the world, including one at the Sydney Opera House last year, so it just seemed like a good time for it."
The result is a sweeping, lush and powerful collection of songs that showcase Air Supply like never before. "I have to give Graham credit for it," Hitchcock says with reverence in his voice for his longtime bandmate. "He was supervising producer and oversaw the mixing. We're really proud of it and it's been very well received by our fans. And the Prague Symphony was an integral part of the project. Graham was knocked out by their professionalism and by their talent. He'd worked with them in the past and always said, 'If we're ever going to do this, we're going to do it with them.' And we did."
"It was hard to pick out the songs to include on this album," he reveals, "because I think we've recorded 24 studio albums in all and there are so many songs to choose from. So, we decided to have our biggest songs make up the core of the recording, which is a lot like how we set up our concerts, and in the end, I found it very comforting to hear the orchestrated versions."
"You know, we never thought we'd be here. Back when we released our first recordings in Australia, we thought maybe two or three years would be a good run. But as the years went by and we got the chance to play as many places as we have, we realized we wanted to do everything." So, what could be next for the band? Perhaps a trip to Broadway? "We did a theatrical production using our songs in the Philippines for a limited run and ever since then we've been talking about creating something for Broadway. We've always thought the songs would lend themselves to a show like that." We couldn't agree more! Until then, we'll be counting down the days until we see them on the '70s Rock & Romance Cruise next year.