Hooked on B.J. Thomas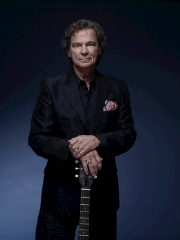 If it seems like B.J. Thomas has always been a superstar, well, it's because he has. Only 24 when he released his first album, Thomas struck gold with his version of "I'm So Lonesome I Could Cry" and went on to release more million-sellers, including 1968's "Hooked on a Feeling," "Raindrops Keep Fallin' on My Head" in 1970 (which also won an Oscar and a place in the GRAMMY Hall of Fame) and "(Hey Won't You Play) Another Somebody Done Somebody Wrong Song" in 1975. But not everything he touched turned to gold…his very first gospel album, "Home Where I Belong," actually flew right past gold status into platinum. By the time he recorded "As Long As We Got Each Other" as the theme to the hit television show "Growing Pains" in 1985, B.J. Thomas was like part of the family – everyone's family.
"I was very lucky and got involved with some of the great writers of my time and I always had great songs to sing," he explains with heartfelt gratitude and modesty, "I've had way more success than I ever thought I would have and believe me, especially during this time, I'm very thankful."
But fans know it was B.J.'s talent and warm baritone that turned those songs into hits across generations and musical genres: he's been nominated for GRAMMY Awards in both the pop and country categories, took home a trophy for his gospel music and landed on Billboard magazine's list of Top 50 most played artists over the past 50 years.
"Embracing all those genres really wasn't a purposeful thing," Thomas tells us. "I didn't intend to do that but I'm kind of a product of Top 40 radio. There was a time when they played all the hit records, all the successful popular records, on one station. So, we followed that concept and recorded the songs that we liked and that meant sometimes the genre would change. And now I feel comfortable doing just about any song that I like."
Which means his next album, which B.J. plans to record at the historic studio in Muscle Shoals, Alabama, is sure to have something for everyone – whether you're a fan of country music, pop, gospel or a little bit of all three. And that brings Thomas back to another thing he's grateful for. "I have the most loyal fans you've ever seen. I had no idea that people could love somebody that much and put up with all the mistakes I made. That's one of my biggest blessings in this whole thing, these people who still believe in me and love to hear me sing. My career mainly centers around live performances, and what that's like for me is hard to describe. It's a feeling and an emotion that you really can't put into words. It's one of the greatest feelings. It's the best part of the business, really."
And boy is B.J. ready to perform for all of you in 2022! "When I first heard about these cruises, I loved it. It's just the most fun you can have. I got the chance to see War and Air Supply and then we kind of hit it off. That was fun, to be able to spend time together like that, which doesn't happen so much now as it did back in the Dick Clark days when we all traveled together. That ended up being one of the best parts about the cruise for me - seeing the guys that I've loved over the years."
Funny, that's our favorite part about the cruise, too. We can't wait to hear B.J. Thomas' voice fill the Caribbean air when he performs aboard the '70s Rock & Romance Cruise next year. In the meantime, we'll keep checking his website for news about his upcoming album.
If you haven't yet, book now and take advantage of convenient payment plans that allow you to stretch your payments out over time! Plus, remember, if you've ever sailed with us on any StarVista LIVE cruise, you are eligible for special alumni pricing when booking the 2022 voyage.